The BBC says it is "reinventing" red button interaction to bring together television, radio and online media. The integration launches on the Virgin Media TiVo service, available in 1.2 million homes in the United Kingdom. The new connected red button features will roll out to other internet connected television platforms over the coming months. While the design is a great improvement, favouring a commercial platform and failing to support from the outset the new YouView joint venture in which it is a partner suggests that the BBC strategy is far from connected.
The red button is used by an estimated 20 million people a month in Britain, across satellite, cable and terrestrial television, mainly to access news, sport and weather information, but also for interactive services around major events, like the Olympic Games.
Over a million and a half people are estimated to have played along with a guess the value game associated with the latest series of Antiques Roadshow.
A decade ago, the BBC was proclaiming a "red button revolution" with interactive television services, but the limitations of broadcast distribution meant that this was really restricted to delivering multiple media streams and continuously transmitted applications and data.
With hybrid platforms, combining broadcast and broadband networks, these limitations largely disappear, enabling a much richer range of services to be delivered on demand using internet technologies.
Ironically, this has long been possible on cable television, which has an inherently connected broadband network, but with the new Virgin Media TiVo platform that this has become a more compelling proposition.
The emergence of other network connected television devices and displays enables similar experiences for a much larger audience.
There are predictions that by the end of 2016 there will be almost 22 million connectable televisions installed in the United Kingdom and that over half the households in the country will have a connectable primary set, either directly or indirectly through a set-top box.
Whether they will all actually be connected is another matter, but that will be largely dependent on the services that are available. Hence the significance of the BBC initiative in driving demand, building on its existing interactive services by integrating the red button with internet delivery.
The connected red button will link channels to online media, including additional streams, clips and catch-up programmes.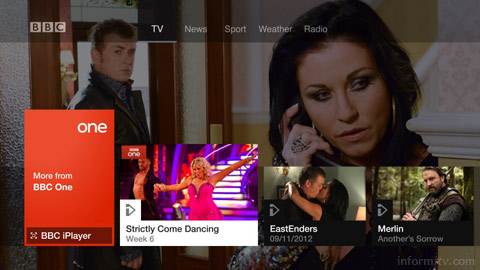 The connected red button is channel associated, meaning that it is available by pressing the red button when tuned to a BBC channel. Initially it will be launched on children's channels and BBC Three and Four.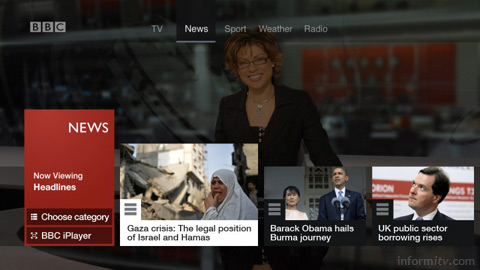 News and sport will have their own sections, accessible through the horizontal menu at the top of the screen.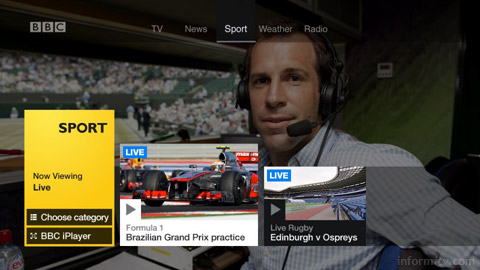 Radio will also have a dedicated area within the connected red button service.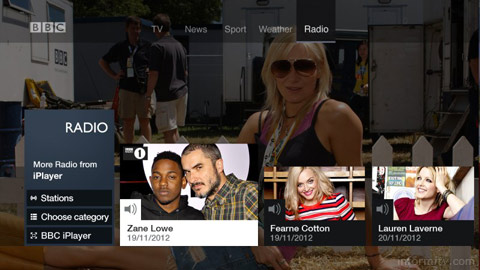 "With today's launch of BBC Connected Red Button, the BBC is seamlessly bringing the internet together with live TV, while making the technology completely invisible," said Daniel Danker, the general manager for on-demand services at the BBC. "This is red button reinvented, and the beginning of the exciting future of television."
It is good news for Virgin Media TiVo subscribers, at least. Cindy Rose, the executive director of digital entertainment at Virgin Media, said: "The BBC understands as passionately as we do how important connected television is for home entertainment. Our commitment to this partnership of innovation means Virgin Media TiVo customers are the first to experience the latest interactive services at the press of a button."
The connected red button will initially be available through Virgin Media TiVo, which the BBC describes as an "open platform". This is rather ironic, given that the original justification for project canvas was to provide an open set to specifications that somehow developed into YouView, which is currently far from an open platform.
The new services are based on a combination of HTML and Adobe Flash. The latter is supported by TiVo and YouView, but not all connected television devices and displays.
"We'll be rolling out Connected Red Button to a range of connected TV devices during 2013 and in many cases 2012 TVs will also be upgraded to Connected Red Button," writes Matt Coulson, executive product manager for red button at the BBC.
Many comments to his blog on the BBC web site are critical of the decision to debut on Virgin Media TiVo, a pay-television service that is only available in certain areas, rather than on the YouView, Freeview or Freesat platforms in which the BBC is a shareholder. Failing to support YouView from the outset appears perverse, although no doubt if it had favoured that platform the BBC would have been equally open to criticism.
Others suggest that the new look red button should be available on Sky, which is the leading pay-television platform, available in over 10 million homes, with at least 1.3 million Sky+HD boxes also connected to broadband. This would be more technically challenging, although possible, but strategic and commercial considerations are probably more of a barrier.
The full-screen overlay user interface, illustrated with imagery, is a significant improvement on the split screen navigation that the BBC has used to "bridge" interactive services from the red button for the best part of a decade. It represents a natural evolution, rather than a revolution in interactive television, blending web approaches with a televisual aesthetic.
If this were presented as the promise of YouView it would provide a justification for the significant investment in the platform. No doubt it will follow on YouView and other connected television platforms, but this seems to undermine the original rationale for establishing the joint venture, while favouring a pay-television competitor.