Google is offering fibre-optic internet access to people in Kansas City. Google Fiber offers gigabit connections both upstream and downstream for $70 a month, with a package including television channels and a tablet remote control for $120 a month. An entry-level access package will be free apart from the installation fee. It promises to transform the way people think about broadband and shake up the competition. If this can be done in Kansas City, it begs the question whether there is a serious prospect of this template being rolled out across the country to over a thousand markets that also expressed an interest. The latter currently seems less likely, but somewhere, over the rainbow, we may not be in Kansas any more.
While gigabit speeds are already available in some countries, like South Korea, Google points out that the average internet access speed in the United States is still only 5.8 megabits per second, only a little faster than the maximum speed available 16 years ago when residential broadband was first introduced.
Google selected Kansas City from over a thousand towns and cities in America. Under an agreement with the city, Google will build and operate the network in exchange for access to assets and infrastructure.
Google is now asking people in Kansas to pre-register with a $10 deposit. It is hoping that neighbourhoods of 250-1,500 households, which it is calling "fiberhoods", will rally round to reach the registration target, of 5%, 10% or 25% of homes, depending on factors like housing density. Google will build out according to demand. In qualifying areas Google will also connect community buildings like schools, libraries and hospitals with free gigabit internet access. Google says all qualifying neighbourhoods will receive service before the end of 2013.
Notably, Google is offering not only internet access but the option of television services. It says it will offer a full channel lineup, which currently includes around 300 channels, although it has yet to secure deals with many providers of premium programming, such as ESPN.
Google Fiber will have its own high-definition TV Box and will come with a Google Nexus 7 tablet to use as a remote control, which will also allow certain channels to be viewed anywhere in the house. There will also be apps available for other Android and Apple iOS devices. A separate storage box will allow recording of up to eight television channels at once. The Google Fiber TV Box is a different product to Google TV and is a pure internet protocol television platform.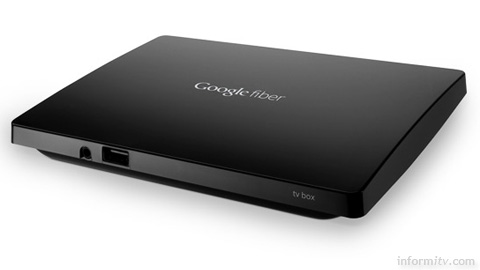 As far as Google is concerned, this is primarily an internet proposition, with television as an optional part of the package.
Google Fiber is clearly intended to disrupt not only the entrenched cable television industry but also relatively new entrants. Verizon offers fibre to the home in some markets with its FiOS proposition. The fastest FiOS offering is now 300Mbps downstream and 65Mbps upstream, for over $200 a month.
It may be arguable whether people currently need faster line speeds than this, as many internet services may be limited by delays elsewhere. However, the message from Google is clear — faster internet can be delivered economically without being throttled or capped.
Faster connections also help Google deliver more sophisticated cloud-based services, and as a broadband service provider Google will potentially have even greater insight into user behaviour in order to drive its primary business, which is advertising.