In a dramatic reversal of its previous provisional position, the Competition Commission has concluded that Sky Movies no longer provides Sky with a material advantage over its rivals in the pay-television retail market in the United Kingdom. It attributes this to the arrival of online services from Netflix and LoveFilm, and the imminent launch of Now TV, a standalone online service from Sky.
Sky welcomed the revised findings, saying that consumers are well served by strong competition between a variety of movie providers and that it is committed to further innovation that will offer even more choice.
Virgin Media disputed the conclusion, saying that the control Sky had over movie rights restricted competition, leading to higher prices, reduced choice and less innovation. It said that the emergence of new movie providers has done nothing to reduce this advantage.
The original investigation followed a referral by the national communications regulator Ofcom in August 2010, relating to subscription pay-television movie rights and the wholesale supply of premium movie channels.
A year later the Competition Commission provisionally found that the control Sky had over movie rights in the first subscription pay-television window was restricting competition between pay-television retailers but said it would monitor developments in the market.
Since then, Netflix launched in the United Kingdom in January 2012 and LoveFilm, owned by Amazon, has extended its online movie offering. Both these "over the top" services are available on a subscription basis independent of a particular pay-television or broadband service provider, through various connected television devices and displays.
Significantly, Sky announced in March that it would offer its own online video service, to be named Now TV, on a wide range of broadband-connected devices. Starting with movies, later expanding to offer sport and entertainment as well, it will be available on a monthly or pay as you go model, with no continuing contract.
These developments appear to have gone a long way to offset any potential competition concerns. Although in the short term these services are likely to be closer competitors to each other, over time they are more likely to become substitutes to similar services offered by traditional pay-television providers.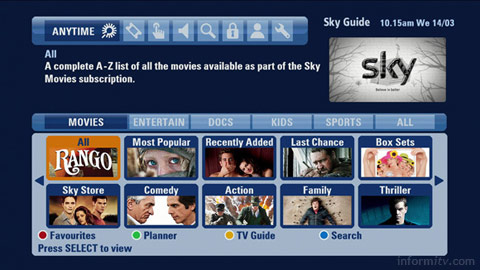 On the basis of evidence considered by the commission, it seems that the availability of Sky Movies is also a less significant reason for people choosing or staying with Sky than had been previously assumed.
"Competition between providers of movie services on pay TV has changed materially and, as a result of these changes, consumers now have much greater choice," concluded Laura Carstensen, who headed the investigation by the Competition Commission into the issue of market dominance of movies on pay television.
"LoveFilm and Netflix offer services which are attractive to many consumers and they appear sufficiently well resourced to be in a position to improve the range and quality of their content further," she explained. "Moreover, Sky is about to offer Sky Movies on Now TV, which will make Sky Movies available unbundled from other pay-TV content and not requiring a subscription to a traditional pay-TV platform."
While considering that competition in the pay-television market overall is ineffective, the Competition Commission was limited in its terms of reference to the impact of the first subscription pay-television window, for which Sky currently holds the rights to movies of the six major studios. In this respect, the inquiry has concluded that this does not provide Sky with "a material advantage over its rivals in the pay-TV retail market".
As a result of new options open to consumers, the choice of pay-television platform can more easily be decoupled from their choice of pay-TV movie service. "As a result, Sky Movies no longer provides Sky with the advantage that it used to when competing with other traditional pay-TV platforms, like Virgin Media or BT Vision."
Accordingly, the commission considered that there are no longer any features relating to the supply and acquisition of subscription pay-television movie rights of the major studios in the relevant window or in the wholesale supply of premium movie channels which give rise to an adverse effect on competition in any market.
Consequently, the Competition Commission is not proposing any remedial action. It has published its revised provisional findings and is inviting comments before reaching its final views, due for publication by early August.
Competitors, regulators and analysts alike have generally tended to overstate the importance of movies and sport rights as contributors to the market success of Sky. The reality is that competitors can offer similar packages of premium programming at similar prices and have still failed to attract subscribers in similar numbers.
The real competition will come not just from competing pay-television platforms but from new entrants coming online over the top to reach network-connected television screens.