In response to predictable opposition from broadcast networks to the AutoHop ad-skipping function on its latest Hopper digital video recorder, Dish has filed suit against ABC, CBS, NBC and Fox for a judgement on whether it infringes copyright. Meanwhile CBS, NBC and Fox have filed their own cases against Dish claiming copyright infringement and effectively complaining that it threatens the business model of television advertising.
While any company could make a digital video recorder that can continuously record broadcast channels, it seems that Dish is arranging for the automatic recording of the four main networks during prime time and delivering additional metadata that identifies commercial breaks and allows them to be skipped, at the request of the user, only when viewed after the day of original transmission.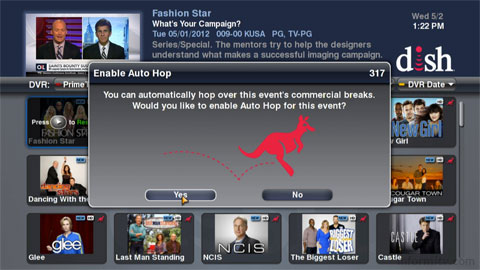 Dish has asked for a declaratory judgment that the AutoHop feature does not infringe any copyrights that could be claimed by the major networks and that Dish remains in compliance with its agreements with the networks.
"Consumers should be able to fairly choose for themselves what they do and do not want to watch," said David Shull, who is responsible programming at Dish. "Viewers have been skipping commercials since the advent of the remote control; we are giving them a feature they want and that gives them more control."
"We don't believe AutoHop will substantially change established consumer behaviour, but we do believe it makes the viewing experience better," he added. "We respect the business models that drive our industry, but we also embrace the evolving nature of technology and new ideas. Advances in the ability to measure and target viewership will give the entire industry — including advertisers — the ability to develop better programming, more effective advertising and deliver an overall better experience to the viewer."
Dish clearly believes that in return for the billions of dollars in "retransmission fees" that broadcasters collect from platform operators such as Dish, subscribers should have the right to watch programming as they wish, optionally without adverts.
Unsurprisingly, the broadcast networks disagree and have responded with indignation.
CBS filed suit against Dish calling for an injunction against an "unlawful scheme" to profit from a new system for violating their copyright, claiming infringement, contributory infringement and vicarious infringement under the copyright act. It said the "unlawful conduct attacks the fundamental economic underpinnings of television programming delivery".
NBC also filed a suit against this "unlawful service" saying in a statement: "Dish simply does not have the authority to tamper with the ads from broadcast replays on a wholesale basis for its own economic and commercial advantage".
Fox submitted a separate suit claiming copyright infringement and breach of contract. It called Dish PrimeTime Anytime a "bootleg broadcast video-on-demand service" that made unauthorised copies of network programming such that the copies it makes are viewable commercial free.
It will be for the courts to decide, but the broadcast networks do not appear to be on particularly strong ground with respect to copyright legislation and the arguments that it breaches retransmission agreements seem similarly tenuous.
Gary Shapiro, the chief executive of the Consumer Electronics Association, said: "The fact is that their legal arguments and their policy arguments are very weak."
It could be some time until there is a definitive legal judgement on the matter, but this could be as significant as the "Betamax case" — a 1984 judgement from the Supreme Court of the United States ruling that making individual copies of programmes for the purpose of time shifting is fair use and does not constitute copyright infringement.