American satellite television operator Dish Network has upset broadcasters by adding an AutoHop feature that automatically skips commercials that are recorded as part of the Primetime Anytime feature on its latest digital video recorders. In an extraordinary case of biting the hand that feeds, Dish is fundamentally undermining the business model of the commercial channels but it is not clear what they can do to prevent it, other than refuse to carry advertisements for Dish on their networks, or ultimately refuse to allow Dish to carry their channels.
The Dish Network Hopper digital video recorder launched in March has three satellite tuners and a 2TB hard drive capable of storing up to 250 hours of high-definition programming. It can be used with smaller Joey set-top boxes to view up to four different recorded programmes in up to four rooms at once.
It incorporates a PrimeTime Anytime feature that records up to six channels during primetime to offer access on demand for up to eight days after they air. These include four local high-definition networks ABC, CBS, NBC and FOX plus two user-selected channels.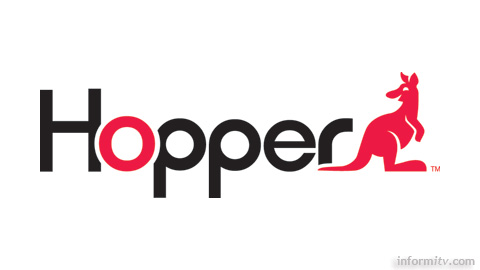 Dish has now enabled a feature that allows users to opt to skip commercials on programmes that are viewed the following day or later. For same day viewing there is still the option to hop forward by thirty seconds.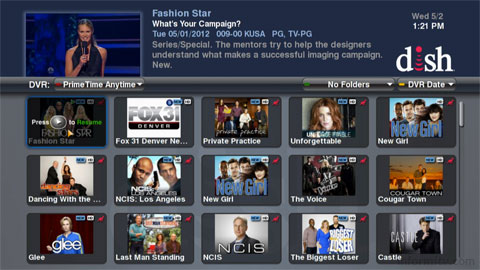 Shows that can be viewed without commercials are indicated by a red kangaroo symbol in the programme list. Selecting such a show presents the option to view the programme with or without commercial breaks. This means that it is always a user-initiated function. Then, when viewing the programme a kangaroo symbol will appear briefly in place of each break.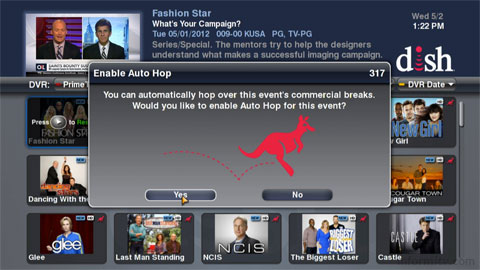 "Viewers love to skip commercials," said Vivek Khemka, vice president of DISH Product Management. "With the AutoHop capability of the Hopper, watching your favourite shows commercial-free is easier than ever before. It's a revolutionary development that no other company offers and it's something that sets Hopper above the competition."
He later said in an interview "I really wasn't thinking about what the network executives were going to say. I was thinking about getting a good response from consumers and what we've seen so far is a pretty overwhelmingly positive response from customers."
Joseph Clayton, the chief executive officer of Dish said it "values its relationships with both local and national broadcasters" but said "answering the consumer demand for choice and control is our primary mission".
The AutoHop feature claims to use patented technology. It may simply be automating something that many users may do manually as a matter of routine, but not surprisingly it has the broadcast networks up in arms.
ABC Entertainment president Paul Lee said "ads are key to our business" and the network is "not supportive of anything that doesn't support our advertisers".
CBS chief executive Leslie Moonves said: "They can't put our content on without commercials. They just can't do it. It's Illegal." He added: "How am I going to produce CSI for $4 million without ads. I can't do that."
NBC Broadcast chairman Ted Herbert described the feature as "an insult to our joint programming, and I'm against it." He questioned: "Just because technology gives you the ability to do something does that mean you should?"
The networks are considering whether they can mount any legal challenges, although the basis for this appears unclear.
In 2001 ABC, CBS and NBC filed a copyright infringement lawsuit against ReplayTV and its digital video recorder that allowed users to skip advertisements. In that case parent companies General Electric and the Walt Disney Company were actually investors in ReplayTV. The company was subsequently purchased by SONICblue, which later filed for bankruptcy, with the assets ultimately acquired by DIRECTV. The legal case was never determined.
All digital video recorders now allow users to fast-forward or skip though advertisements, but the threat to broadcasters is less than some originally imagined. It is even argued that viewers end up watching more commercials as a result of viewing programmes that they actually want to watch. Ultimately, allowing users to catch up on network programming more conveniently may boost live viewing of shows they cannot wait to see the next day.