Roku, an American startup with a tiny media player that competes with the Apple TV and a number of similar streaming media devices, has launched quietly in the United Kingdom and Ireland. To drive expansion it is now planning to expand into France and Germany. Roku is aiming to raise up to $50 million in the coming months.
Roku has launched in the United Kingdom with two models available through online retailers. The more expensive version, the Roku 2 XS costs £99.99, compared to $99.99 in the United States, which is the same price point as Apple TV. It provides 1080p high-definition video streaming through HDMI, as well as standard definition composite video output. It has built-in wired and wireless network connectivity. It is compatible with infrared universal remote controls but this version also has a motion sensitive Bluetooth remote control for playing games, and comes with Angry Birds included.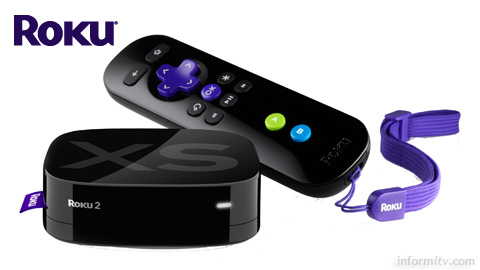 The Roku box is a similar size and shape to the Apple TV device, but slightly smaller and lighter as the power adapter is external. It aims to provide a rather more open platform.
Apple has updated its product to support full high-definition, and rolled out a new release of its software, but the changes have been evolutionary rather than revolutionary. Apple benefits from an integrated ecosystem, to which the Apple TV product is more of an accessory that adds value to the other elements.
The main focus for Roku is on aggregating "channels" of live and on-demand programming, rather than "apps". These include the BBC iPlayer, Netflix and soon LoveFilm, as well as a range of other channels available free or on subscription.
It is a relatively open platform and third-party partners can add their own channels at no cost, although Roku takes a commission if they wish to use their transactional services to take payments. As far as users are concerned, it is the ultimate in à la carte, in that channels can be added or removed, but the selection is currently rather limited.
It all works reasonably well. Set-up is simple and well thought through, although you have to sign up with your payment card details on the web. The BBC iPlayer is yet another variant, with a few rough edges. Other channels take a more templates approach. The quality of the video depends on the particular provider as much as the broadband connection. In some cases it is exceptionally good, while other channels are hardly watchable on a large screen.
It comes with USB and microSD card ports for side loading media, but the emphasis is really on aggregating online video brands rather than viewing your own material. There is no support for DLNA, but enthusiasts can cater for home media using third-party software like Plex. Given the current limitations in channel content, it seems surprising that it is not easier for users to browse their own media.
Roku has also announced a Streaming Stick, a tiny dongle device that will plug into a smart television. It includes the processor, memory and wireless connection. It will plug into the latest type of HDMI connector, using the new MHL standard to deliver power to the device, which can be operated by the television remote control. Available from the second half of 2012, the idea is that it can either be bundled with a smart television or sold separately.
Since launching the first Netflix streaming player in 2008, Roku claims to have reached around 2.5 million streaming players in the United States.
Roku aims to build a stable of channels before it begins a major advertising push in Britain. The company is in discussion with media companies and hopes to be able to attract service providers like Sky onto its box. The Sky Go service is already available on other third party platforms, including those of Apple and Microsoft.
The United Kingdom is a very different market to the United States and no less competitive. Roku has benefited from the growth of and association with Netflix, which has also recently launched in the United Kingdom, but faces competition from established players.
Anthony Wood, the founder and chief executive of Roku, previously founded ReplayTV, a pioneer of digital video recorders. Roku has received at least $22 million in venture funding today, and its backers include Netflix. Roku is aiming to raise a further $50 million in finance to fund the international roll out.
He is obviously optimistic about the prospects. "All TV is going to be internet and it's going to go quickly, it's going to go faster than people think," he told Reuters in an interview in London. "We want to make sure we win because there's not going to be a lot of winners."