Connect TV enables viewers to access channels delivered over the internet directly through the programme guide on any compatible Freeview HD receiver in the United Kingdom. Bringing together broadcast and broadband it aims to offer viewers more choice and a traditional television experience with increased interactivity, without the need to buy new devices or change their viewing habits. Already available across millions of high-definition receivers, it also further questions the need for a new hybrid platform such as YouView.
Connect TV allows channels like Sports Tonight and the Chinese national broadcaster CCTV, as well as other foreign language broadcasters, to offer niche channels on Freeview HD over broadband, as well as providing the potential for video on demand services.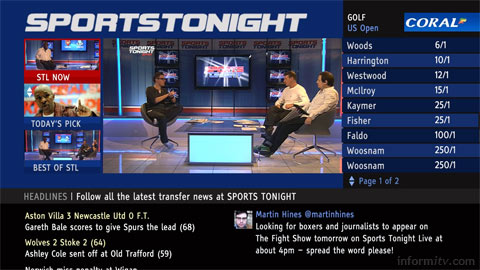 Transactional services and subscription channels are an obvious application. Racing UK, currently available on cable and satellite, is about to launch on Freeview through the Connect TV platform, providing live coverage of horse racing for £20 a month.
Channels appear in the electronic programme guide on Freeview under logical channel numbers that link to an interactive application that accesses the service over broadband. The virtual channel listings appear on any Freeview receiver. A message providing information on how to upgrade is displayed on those that do not have a broadband connection.
Phil Walder, the managing director of Connect TV, was previously with IP Vision, a venture backed by Netgem that aimed to offer hybrid broadcast and broadband services through its own digital video recorder and Fetch TV platform.
The advantage of the Connect TV approach is that it works with devices and displays that many people already own. Over half a million Freeview HD displays were sold in the United Kingdom in December 2011 alone. There are now over four million Freeview HD receivers across the country, many of which will be able to access Connect TV services.
"We are able to give consumers a wealth of extra free and paid content without forcing them to leave the familiar surroundings of their main TV screen and Freeview menu or buy new a TV service or device," he explained.
"Through the Connect TV platform, broadcasters, content owners and consumer brands, can reach millions of Freeview viewers at low cost in a simple, powerful way. The economics of our delivery means that niche channels can be on the same menu as the UK's most watched TV channels."
He demonstrated a preview of the Racing UK channel, accessed through the standard electronic programme guide on a Freeview HD television, offering the choice of either full screen video or a combination of video and interactive graphics.
Jonathan Marshall, the chief technology officer, was previously involved with the early interactive television developments at the BBC. The Connect TV service uses the MHEG interactive television standard, together with the interaction channel streaming extensions supported on all Freeview HD compliant receivers to integrate broadcast and broadband delivered services.
Connect TV believes that the current fragmentation of the connected television market is its weakness, and represents an opportunity for conventional incumbent broadcasters to create a connected television service that complements and supplements the existing broadcast system and exploits the habitual behaviour of television viewers.
All of which either endorses or questions the need for YouView, the long awaited and yet to launch platform backed by a consortium of broadcasters and broadband service providers.
Asked by informitv about potential competition from YouView, the managing director of Connect TV said: "We have always agreed with YouView's aim of bringing more channels to viewers' televisions, and that is what we have done with the Connect TV platform, without the need for viewers to buy a new device." He pointed out that provided YouView devices are compliant with Freeview HD, then Connect TV services will also be present on them.
While smart televisions enable apps to access online video services, the benefit of the Connect TV approach is that it is integrated in the familiar electronic programme guide that people use many times a day. As Connect TV puts it, the killer application for television is watching television.
With high-definition channels now available on Freeview across much of the country, many homes can be expected to upgrade their receivers, particularly in an Olympic year. That will represent a significant addressable market for both new and existing channels and brands to reach over broadband.