Both Google and Apple are expected to update their television experience. There will be a new version of the YouTube experience on Google TV but some expect more significant announcements. An enhancement of the Apple TV product is also expected, possibly in the form of a new version that finally supports full high-definition displays. Despite slow starts from both Google and Apple, they could both become major players in the television business, exploiting their respective relationships and ecosystems. To add to the rampant speculation, informitv offers its own update.
The new version of YouTube on Google TV will be available as a software update through the Android Market. It is intended to provide an improved user experience. It adds the ability to browse YouTube channels by categories and provides new channel pages.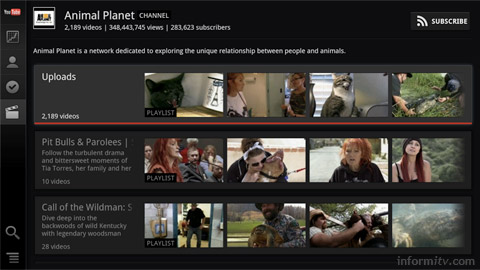 YouTube is the killer application for online video, responsible for half the internet video viewed in America, according to comScore, although that does not include video of more dubious provenance. YouTube has been investing in online video channels in the hope of bringing more original programming to the party.
More ambitiously, some expect Google to bring out a device through which to promote its Android television platform, if only to seed the market, as it did with mobile phones.
The initial Google TV launch with was disastrous, not least for the Logitech chief executive who stepped down after dismal sales of its Revue product.
Google is imminently expected to receive regulatory approval for its $12.5 billion planned acquisition of Motorola Mobility, which certainly has the capability to produce media devices.
One might expect to see the Android Google TV environment emerging in set-top boxes, digital video recorders and connected television displays, offering service providers an ecosystem that can integrate with Android smartphones and tablets.
Google is understood to be planning a push into home entertainment, possibly with a wireless audio product that would compete with Apple and high-end specialist products. The company is also developing an Android at Home framework for home automation.
So far the user experience of Google TV has been sadly lacking. As a software engineering led company, Google does not have a strong design aesthetic.
Given that Google can spend billions buying Motorola Mobility, it could worse than acquire a company like TiVo to extend its patent portfolio and television experience.
Apple is expected to bring out a new version of Apple TV with support for 1080p full high definition displays, rather than the current 720p output. There is also conjecture that the next generation Apple iPad 3 could see an increase in resolution beyond the current 1024×768 pixels, enabling it to display full high-definition video.
That might see Apple offering movies in 1080p on its iTunes store. As much as anything this would be a marketing move, but is a necessary step if online delivery is to compete on quality with physical media.
Some might hope for new tricks, such as gesture or voice control, building on technology that Apple has pioneered in its other products.
All of which adds to the anticipation that Apple could be planning to introduce an integrated interactive display. Our money would be on calling this an iScreen, rather than the more obvious iTV, not simply because of possible trade mark issues with the ITV network in the United Kingdom, but because such a screen would not be limited to television.
Of course television remains the killer application of the television screen and the question is how to integrate this with an intuitive user experience.
There have been suggestions that Apple could work with telecommunications companies to bring such a display to market. Apple already has relationships with leading carriers that distribute its iPhone. Many of those carriers have retail outlets through which to market their mobile phones and network plans. A good number of those carriers also have agreements with broadcasters through their own IPTV initiatives.
It may be early days for Google and Apple in the television business, but remember many analysts were sceptical of the potential for Apple to penetrate the mobile market and many were equally dismissive of the prospects of Google with Android.
When Apple launched the iPhone on January 2007, informitv said "it could redefine our view of the mobile phone," which indeed it did. That announcement overshadowed the launch of the original Apple TV the same day, which has remained something of a hobby for Apple, but television could be the next big business for it to finally crack.