IP Vision has brought in administrators to sell its hybrid television and video on demand businesses and assets. The company says advanced discussions are underway with interested parties. It is expected that Fetch TV, its video on demand service, will continue to operate during the sale process. IP Vision faced the prospect of competing directly with YouView, which is set to launch later this year, backed by major British broadcasters and broadband service providers.
IP Vision (UK) Limited appointed Peter Kubik and Michael Kiely from the turnaround and recovery department of accountants UHY Hacker Young as joint administrators of the company in late December 2011. In its latest announcement, IP Vision said that selling the business represents the best means of maximizing value for the creditors and stakeholders of the company.
"IP Vision is a recognised innovator with a well-deserved reputation in the field of hybrid DTT/IPTV solutions and premium over-the-top video on demand services," co-founder Eddie Abrams said in a statement. "Purchasers will be able to take full advantage of the company's many strengths in these respective areas which include a fully-operational end-to-end hybrid TV platform and a multi-device, premium video on demand service with broad reach in conjunction with major TV manufacturers and approximately 30 content partners."
Eddie Abrams was previously at Yoomedia, which merged with FreshIT to form Mirada. IP Vision was formed in 2007, with the backing of the French set-top box company Netgem, aiming to repeat its successful experience with IPTV in France.
IP Vision launched a hybrid high-definition digital video recorder sold through major retailers that combined access to Freeview digital terrestrial television broadcasts with video on demand services delivered over broadband. The service platform is branded Fetch TV. This is unrelated to a similarly named service that operates in Australia, which competes with an offering from Telstra that also uses a Netgem box.
In so doing IP Vision was competing directly with BT Vision and attempting to pre-empt the yet-to launch YouView platform, backed by British broadcasters and broadband service providers, including BT.
Eddie Abrams has been highly critical of the YouView initiative. He said the venture would thwart competition and inhibit the industry from innovating to create new services and improve the television user experience. He repeatedly called on YouView to release specifications to allow it to launch compatible services. While YouView has released its core technical specification, it has yet to publish any application programming interfaces.
Fetch TV received the award for Outstanding Achievement in Connected TV at the Connected TV Summit in London in May 2011. For IP Vision, this vindicated its view that the market could deliver hybrid services based on open standards without the intervention of YouView.
Sky backed Fetch TV, to the extent of making its programming available on the platform, if only to demonstrate that it could distribute programmes and channels through other services.
IP Vision recently launched a Fetch TV app for Panasonic Viera televisions and has been working on one for the Samsung Smart TV platform. This was part of a strategy to diversify onto other devices, including Blu-ray disc players.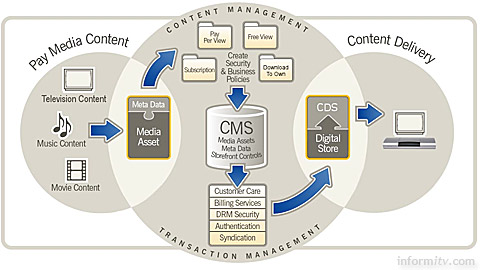 There is little doubt that it would be difficult for IP Vision to compete as a standalone business against the marketing muscle of the planned YouView launch and the subsidies that BT and TalkTalk are likely to offer to attract customers.
Tens of millions of pounds have been invested in YouView, with commitments to back it to the tune of tens of millions more. If anything, Fetch TV provides evidence that launching a technical platform need not cost so much, but marketing it to consumers may be prohibitively expensive.
However, there remains the prospect that the intellectual property in IP Vision could be bought by someone with sufficiently deep pockets and established retail channels, say Amazon or Tesco, as a route to market for their own video on demand services.