With different digital devices and displays proliferating, each supported by various incompatible technical environments, the market for delivering online video is becoming ever more complex. Which is why various online video platform providers are attempting to develop solutions to enable media distributors to reach the widest possible audience. One such is SyncTV, now an offshoot of the digital rights management company Intertrust. It claims to support devices and displays from a range of consumer electronics companies, including Samsung, LG, Vizio and Philips, as well as new entrants like Roku and Boxee, iOS and Android handsets and tablets, Microsoft Windows and Apple Mac computers and web browsers. It sounds like a complete solution to the problems of online video publishers.
SyncTV Corporation is based in Sunnyvale, California. The company was founded as a project at Pioneer electronics and was originally covered by informitv in November 2007. Intertrust Corporation acquired the company in 2009, partly as a showcase for the Marlin digital rights management system created by a consortium of Intertrust, Panasonic, Philips, Samsung and Sony.
Alexander Garcia-Tobar is the president and chief executive, with a background in technology companies. The founder and chief technology officer of SyncTV is John Gildred, who was previously at Pioneer Electronics.
Originally launched as a consumer offering on personal computers, with a rather miserable selection of programming, it failed to find its feet in the face of fierce competition from Hulu and Netflix.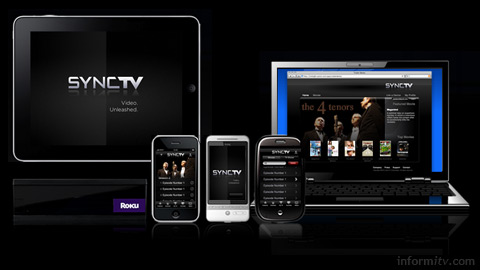 The solution is now being offered as a white label platform to other media companies, to enable any number of Netflix style services across a broad range of devices and displays, without requiring them to reinvent the wheel developing core services and client applications.
The unified cloud-based platform claims to provide a content management and delivery system that allows a turn-key custom branded video service across all supported devices, with live and on-demand streaming up to 1080p high-definition, with support for a mix of subscription, advertising and download to own business models. Users can pause viewing on one device and resume on another.
The service consists of a back-end platform that provides the usual ingest, transcoding and subscriber management functions, together with a series of customisable front-end client applications for different devices and displays. A comprehensive web-based application programming interface will be supported for content browsing, transactions and administration. As one might expect, the company is also building in social features. In fact, everything but the kitchen sync.
One of the first customers for SyncTV was NBC Universal for its PictureBox Player subscription movie service in the United Kingdom, available on Samsung connected television and Blu-ray players, iPad, or personal computers. The PictureBox service is separately available through pay television providers Virgin Media, BT Vision, TalkTalk and TopUpTV.
In theory, using a platform like SyncTV allows any media company to compete with the likes of Netflix, which has invested heavily in supporting multiple devices and displays. Quite why anyone would want to watch a limited selection of movies from a single studio is another matter.
Other clients focus on specific genres, such as Bollywood films from India, Nollywood movies from Africa, or Anime animations from Japan.
The online video platform field is crowded with players jostling for position. While offering a credible solution for media distributors, SyncTV seems to be positioned as an acquisition target for companies looking for such a platform.