Zeebox has released a free iPad app that aims to make television a more connected social experience, and generally more fun. It is a companion television guide that can know what your friends are watching and let you share your thoughts with them. It brings up contextually relevant tags and will act as a remote control for certain connected televisions. The iPad app, and there is an iPhone version coming as well as a web site, is initially only available in the United Kingdom. There is much to like about it but at the moment it is limited to what is on right now and what follows. Stay tuned for further developments.
Zeebox has been created by Anthony Rose and a team he attracted from YouView, where he was briefly chief technology officer, having previously led the re-launch of the BBC iPlayer. Zeebox clearly embodies some clever ideas but given this background is surprisingly limited to scheduled television channels at the moment.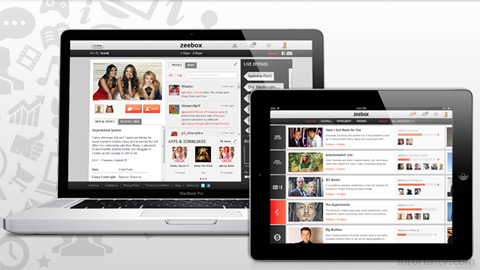 There is a very slick guide to what is on now and next on each channel for your region and platform, with a nice indication of how much of each programme has been shown and elegant transitions when programmes change.
This view can be sorted by programme popularity among other users or friends, and filtered by genre to show only channels currently presenting programmes of a particular type. Only around 50 channels are currently available and there does not appear to be a way to create a custom selection or sort order.
Selecting a programme provides a summary page with credits and links and a Twitter feed plus a series of automatically generated "Zeetags" related to the show, the relevance of which is a bit hit and miss. Logging in with Facebook allows you to see what your friends are watching, assuming they are also Zeebox users.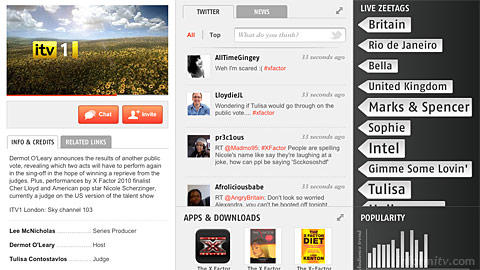 In theory you will be able to click to download apps, games, music, books, films and television shows related to what you are watching, which opens up a range of commercial advertising and transactional business models.
You will finally be able to buy Jennifer Aniston's jumper while watching repeats of Friends, with or without the involvement of the traditional television value chain, or indeed Jennifer Aniston or her agent. You may find something suitable on EBay.
This caters for the widely observed tendency to watch television while simultaneously using a laptop, tablet or mobile phone. It is marginally more convenient than typing "Jennifer Aniston jumper" into Google but about as random as a search for "Friends" on Twitter.
While this will all no doubt appeal to some and could be quite compelling, it is flawed in its present focus on what is on at the moment and what is next. There is no way of even finding out what is scheduled later, or what you may have missed. In a world of digital video recorders and catch-up video services, this is an extraordinary omission, even for a first release.
The risk is that this deeper integration will be addressed by similar apps from platform providers like Sky and Virgin Media, or even potentially even YouView, all of which could learn a thing or two from Zeebox.
Therein lies the challenge. Zeebox can connect to certain television models and act as remote control, which is technically very clever. Recent models from LG, Panasonic, Samsung and Sony will be supported. That is fine if you are using the integrated Freeview or Freesat receiver, but currently useless if you have a set-top box or a pay-television service.
"You're now faced with the problem of what to watch on TV and you know how a programme guide just lists all these programmes, well with Zeebox of course you can do that but you can also see what your friends are watching," says Anthony Rose. "So I can find programmes to watch in an all new way with Zeebox."
The assumption is that television is still a shared experience, which we tend to watch at the same time as everyone else. That may still be broadly true, although time-shifting television viewing is becoming easier and increasingly popular.
As a form of programme discovery, this real-time world is inherently limited. Habit and popularity already inform what we watch on scheduled channels. If you regularly watch The X Factor, currently the most popular programme in the United Kingdom, with around a 40% share of the audience, your friends may well be watching and you probably know when it is on and why you like it. Being able to share your reactions in real time may add to the experience, but that is hardly unique to Zeebox.
Relying on explicitly shared behaviour from friends in a social network also requires that they are active users of Zeebox, which may or may not be a reasonable assumption, even if they are prepared to reveal their actual viewing preferences.
The real opportunity for social recommendation is more likely to be with special interest programmes, or shows that you may otherwise miss. Existing social networks, like Facebook and Twitter may be better able to enable this.
"I've seen the future of social TV and its name is Zeebox," is the quote from Christian Herdandez of Facebook in the promotional video on the site. The problem for Zeebox is that Facebook, with its claimed 800 million active users, may be in a better position to exploit that.
Of course, what we are seeing could just be the initial iteration of Zeebox, and many of these apparent limitations could be addressed. The team says that over the coming months they plan to add support for recorded programmes and offer remote control of digital video recorders, as well as supporting popular video on demand services like the BBC iPlayer. The plan is also to roll out to the United States and other European countries in early 2012.
There is no doubt that Zeebox is a slick and attractively designed app, and the social features may provide an interesting way to watch television, but as a programme guide it is currently very limited, which restricts its utility.
User reviews of the app have been mixed so far. The majority are positive, including one from Ernesto Schmitt, the co-founder of Zeebox, who generously gives it five stars. Others simply cannot see the point. One comments: "If you're prepared to stare at this rather than your TV then you should either watch a better programme or go read a book."