Sezmi is ceasing its consumer service to focus on offering its technology platform to service providers. From Akimbo to ZillionTV, many have tried to redesign the television experience and ended up pulling the plug on their customers. The concept of hybrid broadcast and broadband distribution remains valid, but attempting to launch in the Los Angeles market may have been a mistake.
Sezmi Corporation has written to customers informing them that they will no longer be able to view or record broadcast television through their Sezmi digital video recorder. The electronic programme guide that is necessary to tune to local channels will no longer be provided. Customers will still be able to view movies and shows they have already saved and they will also be offered a month of free access to any movies or shows in the Sezmi catalogue.
Sezmi offered programming delivered using a blend of over-the-air broadcast and over-the-top broadband. A subscription service of a limited number of premium channels was only available in the Los Angeles area, although a service with basic channels and video on demand was available in 36 metropolitan markets in the United States.
The company emerged in May 2008 as a start-up previously only known as Building B, co-founded by entrepreneur Dr Buno Pati and Phil Wiser, former chief technology officer of Sony America.
The idea was to lease broadcast bandwidth to distribute a selection of premium channels, supplemented by video on demand delivered over broadband.
The company developed a network-attached indoor antenna, designed to look a little like a loudspeaker. It provided a high-definition digital video recorder with a terabyte of storage, and a remote control with buttons that could be associated with individual members of the household.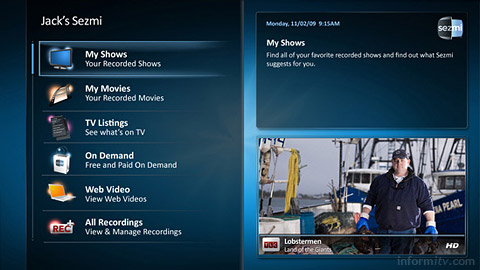 The Sezmi service was launched in February 2010 in the Los Angeles area, with ambitions for national expansion. At the time, informitv suggested that it would struggle to compete with existing pay-television providers.
"Sezmi was launched to provide customers a new video entertainment choice that provides a premium video experience at a more affordable price," the company said. "With our new company focus, we will continue to deliver on the promise of providing a premium and cost effective TV alternative," it concluded. "However, we will do so through partnerships with our broadband service customers."
The company is now concentrating on selling a complete turnkey platform for service providers. A service is planned in Malaysia by YTL Communications and Grupo Iusacell has selected Sezmi for a service in Mexico.
The concept of hybrid broadcast and broadband services remains sound. The platform created by Sezmi and operated by Harris Corporation is potentially powerful. Sezmi aims to extend its offering from the living room television to include personal computers, tablets and smartphones.