WorldTV claims to be the world's largest online television network, with over 250,000 channels. The service has finally come out of an extended beta with a freemium business model. The idea is that channel editors can add videos from existing online services like YouTube and play them back as a full-screen channel — all in a few clicks. We created a custom channel in a matter of minutes. In the words of the site: "Not everyone is a video creator, but with WorldTV you can be a curator". WorldTV is now aiming at delivering these channels to connected television platforms.
WorldTV is an online video platform that enables people to create their own video channel and manage a virtual library of videos wherever they are hosted: on YouTube, Vimeo, Amazon EC2, or their own server. They can create and edit video playlists and create embeddable players.
Users can add live video fees from Ustream, Qik and other sources, switch between them on the fly, or switch to and from live and playlist mode.
Ten years in conception, four years after launching in beta as a free offering supported by advertising, WorldTV has launched with a freemium model, with a free basic service and various new platform features available on an à la carte basis as add-ons or subscription options.
Channel curators can upgrade various features, from hosting on their own domain name or removing advertising for $5 a month, through to creating a custom skin or monetising with video commercials for a one-time fee of $500.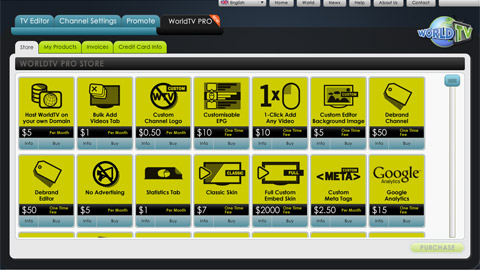 Founded by Alx Klive and Ashley Balchin, WorldTV is based in Limerick in Ireland and backed with a million dollars in angel funding.
In a crowded online video platform market, WorldTV falls somewhere between YouTube and premium services like Brightcove. If WorldTV can extend its service to connected television devices and displays it might be on to something.