Miniweb is seeking a sweet spot in the living room with its woomi proposition. It provides the glue to stick the long tail of online video programming on connected television screens. At the launch event in London, Miniweb showed informitv the woomi service running on a Samsung smart television. Miniweb plans to roll out onto other brands of connected television devices and displays. The aim is to enable video publishers to reach viewers globally across multiple platforms. It will allow manufacturers to aggregate programming on their products without having to do deals with countless content providers, each with their own widget or application.
"We encourage publishers and device manufacturers to embrace connected TV," said Jerome de Vitry, the chief executive of Miniweb. "This is the future of TV and that is why we have created a unique marketplace for them. We are not streaming video or acquiring rights, but are acting as an agent or retailer. We enable our content partners to keep their brand identity and business model, and promote and monetize their content on as many TVs as possible."
Ian Valentine, the founder of Miniweb, is a veteran of interactive television. In 2007, he span the company out of Sky, which had originally acquired waptv, the company he co-founded at the dawn of the digital television era and which powered their betting, retail and red-button services for many years. With indefatigable enthusiasm he is now aiming to bring the best of online video to the connected television experience.
That does not necessarily mean bringing the web browsing experience to the television. He draws the distinction between the web and the internet. An internet-connected television is a better television, he argues, but it does not necessarily need to be able to browse the web.
It is a change of approach for Miniweb, which as the name suggests used to be all about a browser, albeit a special browser, designed for the television environment. The technology was based on the original waptv approach, developed as an open standard, WTVML, a markup language and micro-browser specifically for television devices, with an automatic testing mechanism.
"Imagine if we had succeeded with that in 2007," says the founder and chief architect of Miniweb. "The television applications world would have been a beautiful place." However, the landscape has now become fragmented, "like a plane of glass shattering."
In the meantime, the internet has come to the television, from Yahoo! Connected TV widgets to a full Google TV web browser. With no single standard or application market likely to dominate the display market, Miniweb aims to provide a single point of integration for both programming providers and device manufacturers and. It offers media brands the prospect of global distribution and offers manufacturers added value for their devices with a potential incremental revenue stream, based on a small share of any retained revenues.
The logic is that manufacturers will always want their own branded portals. There will also be key content brands that they will want to support, like YouTube and Netflix. The major broadcast networks will find their own way to get on connected television screens. Miniweb aims to provide a point of access to other programming providers, like Sail TV, that are unlikely to be able to develop their own applications for each device and get prominent placement on product portals.
Once in the world of woomi, the user is presented with a user interface that can be navigated with up, down, left, right, select and back buttons. Multiple users can establish profiles for their particular preferences and subscriptions. These are stored in the network, so in the future it will be possible for them to be accessed through other woomi compatible devices.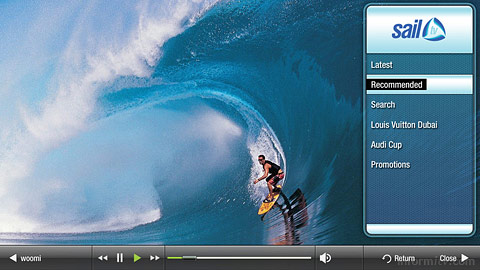 Initially, woomi will be available on Samsung products that support its Internet@TV platform. Miniweb has also developed versions for MHEG, HbbTV and Flash. Miniweb sees its role as an enabler, taking responsibility for creating device-specific thin clients that integrate with its platform in the internet cloud, which provides a single point of integration for programming providers. "It removes the many-to-many relationship problem," explains its founder. "It takes the spaghetti away."
Unlike the approach of Google TV or YouView, there is no need to mandate the operating system for television devices and displays, he suggests. This leaves manufacturers free to innovate and differentiate in the years ahead. "It is important not to freeze dry the specification for television." The answer instead could be based on application programming interfaces that enable an internet service architecture. That is what Miniweb aims to offer with woomi.
The woomi philosophy is that programme providers should publish to people, not devices. The platform will profile stream formats and devices, only presenting media that can be displayed on a particular device. It can even follow individuals as they use different types of device. The aim is also to target viewers based on their viewing behaviour — mediagraphics rather than demographics — creating addressable market segments for advertisers.
With woomi, Miniweb actually benefits from the fragmentation in the market, simply by creating clients for different devices to present a homogenous addressable market for programme publishers. At the moment, the material available may be eclectic in content and variable in quality, but it offers brands an easier way to gain a presence on connected television screens. woomi will need to attract a critical mass of programming from outside the mainstream to fulfil the true promise of connected television.
The real challenge will be to promote woomi as the place to go to watch such programming. Miniweb will need the support of manufacturers to market and promote the proposition. It has a long way to go, but if Miniweb can get woomi on products from a range of manufacturers, it might just fill the gap in the market between YouTube and Netflix.