Virgin Media is showing a teasing glimpse of the new digital video recorder that it will be offering its cable television customers. The company claims it will "blow other 'connected TV' products out of the water". Powered by TiVo, it certainly looks slick and is a vast improvement on the old service, providing real competition for Sky. The success of the partnership will be critical for Virgin Media and for TiVo, which continues to lose money and is awaiting the outcome of an appeal on long-running patent litigation on which its fortunes now largely depend.
As previously reported by informitv, the new high-definition digital video recorder, developed in partnership with TiVo, will have a terabyte of storage.
The remote control has the distinctive thumbs up and thumbs down buttons of TiVo, by which users can tune recommendations based on their viewing preferences. It is a feature that some users love, but how well it works depends on household viewing patterns and the quality of programme data available.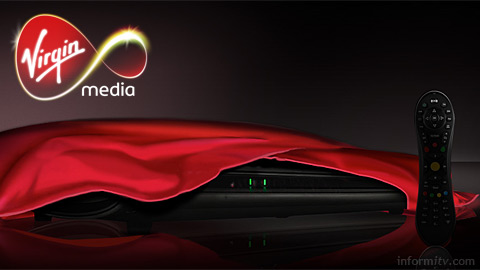 The user interface is elegant, although clearly designed for those with good eyesight and a large high-definition display.
The home screen provides access to the guide to scheduled channels, as well as catch-up and on-demand programming, and locally stored programmes. There is also a menu option for apps and games.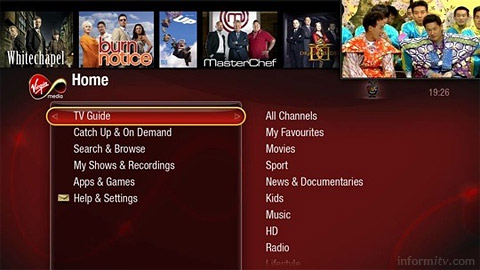 The search screen shows predictive keyword search with visual previews, searching across all programming.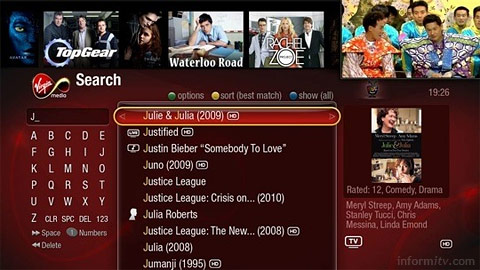 The programme screen includes the option to record the next episode or an entire series. There are links to an episode guide and a cast list, as well as related recommendations.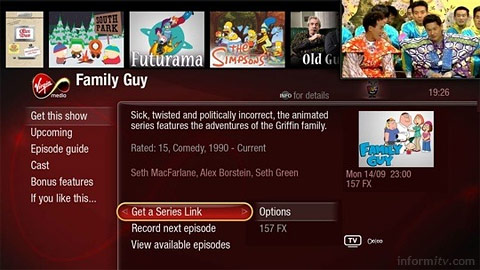 Virgin Media has effectively outsourced the provision of the user interface to TiVo, which is generally highly regarded for usability.
TiVo, which pioneered and became synonymous with the digital video recorder in the United States, continues to lose money and subscribers. The company lost over $20 million in the last quarter and expects to lose more in the next due to promotional discounts on hardware as it pursues growth from subscriptions. Worse, TiVo lost 112,000 subscribers in the quarter, while average revenue per user fell and the cost of acquiring new subscribers rose. The customer base has fallen to 2.3 million.
TiVo originally launched in the United Kingdom in 2000 but sold only 35,000 units. Thomson stopped production after Sky launched its own Sky+ integrated satellite receiver and digital video recorder, for which it became a manufacturer. There are over 6 million homes with Sky+ in the United Kingdom, although Sky now only reports the number of Sky+ HD boxes, of which there are 3.1 million.
TiVo management and shareholders are pinning their hopes on winning an expensive six-year legal battle over alleged patent infringement, with the possibility of collecting considerable damages and ongoing royalties.
The only profit TiVo has produced was from damages in a long-running patent dispute with EchoStar Communications, which is subject to an appeal and is due to conclude in the coming months.
In a conference call with analysts, the company said it could collect $300 million if it wins the court case.
Chief executive Tom Rogers also expects distribution deals with cable companies like Virgin Media in the United Kingdom and Canal Digital in Scandinavia to lift its fortunes.
The company continues to invest in innovation. A new app for the Apple iPad will let users search, browse and discover programmes without interrupting the television viewing. Users can scroll through pre-recorded programmes, or schedule recordings remotely. It is the ultimate remote control.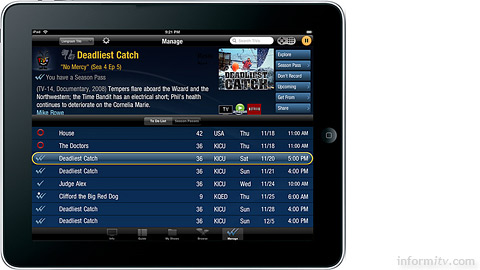 The free app will work with TiVo Premiere and Premiere XL retail boxes. If it works with the Virgin Media box the cable company will have a powerful proposition, although it will be dependent on a company whose fortunes remain uncertain.