Online video service Seesaw is offering viewers the option to pick their own adverts, or pay a small subscription to avoid them entirely. The idea is that users will be more engaged with an advert they have selected. At least they are more likely to be watching at the time. Alternatively, they can simply pay for a subscription service that is uninterrupted by adverts. For regular viewers, that could be a small price to pay. If successful, this mixed model could provide a precedent for other connected television services.
SeeSaw was created from the platform built for Project Kangaroo, a joint venture of British broadcasters which was blocked by the Competition Commission. The platform was subsequently acquired by Arqiva, the transmission services company that is also a partner in Project Canvas, the joint venture with British broadcasters and broadband service providers, now known as YouView.
SeeSaw is currently available as an online web service, although it is also likely to be accessible within YouView and possibly on other network-connected devices and displays.
The service includes a variety of free to view programmes and some premium programming that is available on a pay-per-view basis, with individual episodes priced from 99 pence.
The free programming is supported by advertising. SeeSaw Ad Selector now allows viewers to pick one of three adverts to watch within a break, or more accurately, which advert from a particular advertiser. So you might get to pick one of three adverts from Microsoft, but not a choice between Microsoft, Apple or Adobe.
Ben Williams, the head of advertising for SeeSaw, described it as "a win-win for the advertiser and the user." He said: "This puts the user in control of the advertising experience and therefore increases their engagement and purchase intent."
Ad Selector has been launched in partnership with interactive video company Brainient, founded by 23-year-old Emanuel Gal. The company provides a system for creating interactive adverts in a matter of minutes.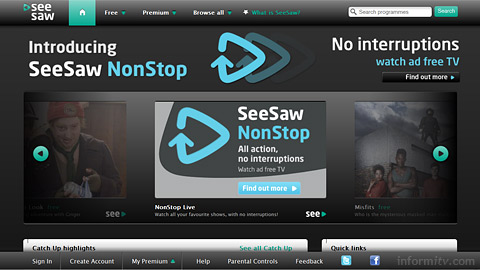 SeeSaw has also launched SeeSaw NonStop, providing uninterrupted access to video on demand programmes that would otherwise be supported by advertising. That currently covers around 3,500 hours of programming on demand, including selected catch-up programming from Channel 4. It also includes BBC programmes, including archive episodes of Doctor Who, series such as Peep Show and The IT Crowd from Channel 4, or the Australian soaps Neighbours and Home And Away, transmitted on Channel Five.
For the first month it costs just 99 pence to sign up. After that it will be £2.99 a month, payable in advance and renewed automatically unless cancelled. Users must be 18 years of age or older.
The price point is reasonable for regular online video viewers and represents a bold move on behalf of the programming partners. Effectively, the proposition is not that the monthly subscription represents the value of the programming to the user. Quite simply it represents the value of avoiding the advertising that regularly interrupts them.
Offering users the option to pay to avoid adverts is an interesting development. As we forecast in our 2020 Vision list of 20 practical predictions for the next 10 years in television, informitv believes that "People will pay to avoid adverts". Whether they will pay for the SeeSaw service is another matter, but at least they have the option to view for free with adverts, with some control over which ones they watch.