A platform for telecommunications operators aims to blend programming delivered over the top of their networks with broadcast channels to bring the best of both to consumers. FusionTV from Entone is a hybrid hub that combines online services with traditional linear channels. Steve McKay, the chief executive of Entone, spoke to informitv about it in advance of its launch at the TelcoTV event in Las Vegas.
He notes that for the first time there has been a reduction in the number of subscribers to pay-television in the United States. "After more than forty years of unfettered growth, pay-television services are reaching saturation point and being threatened by the development of over-the-top services that bypass and marginalise managed service operators."
"Online video is growing quickly but has hardly overtaken television so far," observes the head of Entone. "FusionTV aims to bring together the best of both worlds."
There are now any number of boxes that consumers can connect to the television, from the likes of Apple, Roku, and Boxee, but they are additional inputs to the television. Entone refers to them as movie boxes, aiming to take the place of the disc player, but still not a substitute for a full pay-television service.
On one extreme there are what he describes as the "cordless" –those that either do not watch television or only watch over-the-air television or over-the-top online video. On the other extreme there are those that are prepared to pay a premium for pay-television services. Caught in the middle, he suggests, there is a majority who are concerned about the growing cost of pay-television and interested in online services but so far unwilling to cut the cord completely.
Seeing hybrid emerging as a viable opportunity in Europe, Entone has spent the last couple of years looking at how to apply this model to the United States market.
Currently in trial deployments with a number of operators, FusionTV promises to integrate propositions delivered over the internet with the sorts of services that consumers expect from a platform provider, such as high-definition television and digital video recordings available throughout the home, and a number to call for support.
Entone is offering operators a central home media hub that can integrate with IPTV, cable television or over the air broadcasts. In addition to linear television channels, it offers a fully-featured digital video recorder, personal media sharing within a home network, access to media throughout the home and beyond, and web media services including video on demand, photo sharing, and music streaming.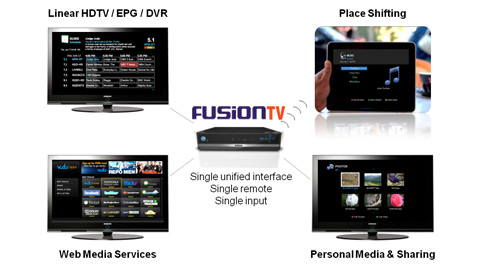 The IPTV Edition is aimed at telecommunications operators with an existing television service that wish to extend this with access to services delivered over the internet, including video-on-demand. Entone is initially focussing on operators with which it has already deployed IPTV services in the United States. FusionTV can be enabled through a software download to Entone media hubs.
A broadband version is aimed at broadband service providers that want to offer a television service without investing in a full IPTV system. It is designed to work with existing basic cable or broadcast television and supplement them with digital video recorder and online video services.
Internationally, Steve McKay says Entone is "almost exclusively focussed on hybrid television".