Just over five years after the launch of Brightcove, the company is launching the fifth release of its online video platform. Jeremy Allaire, the co-founder, chairman and chief executive spoke exclusively with informitv about how its online video platform has developed and the prospects for connected television and the future of video as a medium.
Online video now accounts for over half of all internet traffic and it is set to increase. Since Brightcove launched its internet-based platform that supports the publication and distribution of video on the web, the online video platform market has become crowded and the company is building on its capabilities to keep ahead of the competition.
The online video landscape is becoming increasingly fragmented and complex, partly because of competition between the likes of Adobe, Apple and Google, partly because of the increasing number of network-connected devices and displays that publishers need to address, from smart phones to smart televisions.
"You now have to target upwards of four to five different platforms," says the co-founder of Brightcove. "Everyone has to embrace this because the usage growth is so significant but it's a lot of complexity." He sees the fragmented market that has emerged for mobile devices being mirrored with connected television. "Within twelve months I expect it's going to be similar kind of frenzy," he says. "It's another layer of complexity that people have to manage and think through."
There is also growing complexity in the back office, as the libraries that customers wish to manage grow in scale, not to mention the increasing size of files as the resolution and quality of online video continues to rise.
As well as increasing the strength of its online video platform, Brightcove has been strengthening its management team. Jeremy is getting the band back together, appointing as president and chief operating officer David Mendels from Adobe and formerly Macromedia. Jeremy was chief technology officer there following its acquisition of Allaire Corporation, creator of ColdFusion, a pioneering web development platform. Brightcove has also recruited an experienced chief financial officer, Christopher Menard, leading to speculation that the company could be gearing up to go public.
The aim at the moment seems to be building the business. "We're a private company, we're focussed on building a global business. We don't have capital needs right now," insists Jeremy Allaire. "We remain strongly financially independent. We have a very healthy cash balance sheet. You'll see that we'll be doing some acquisitions."
Brightcove platform
He is more keen to talk about the new features in the Brightcove 5 platform, although he points out that as a cloud-based software company it releases new features every month.
Brightcove customers can now distribute and synchronise videos on YouTube, in recognition that it is the largest single source of online video and one that many media companies and marketers are embracing. "It's not just a push to YouTube, it's actually a synchronisation," he explains. "If you're in Brightcove and you edit the metadata it will then sync that automatically, even if you've already published it to YouTube. If you delete something in your Brightcove account it will delete it from YouTube."
Customers with professional and enterprise accounts can also upload their video to the Brightcove platform using file transfer acceleration technology, available through a browser plug-in or client software from Aspera. This promises a 5-20 times upload speed increase over HTTP or FTP.
There is also a mobile video upload application to allow anyone to shoot, edit and upload video to their Brightcove account from anywhere with the latest Apple iPhone or iPod Touch.
Brightcove also integrates Apple HTTP streaming, enabling multi-bitrate video delivery to Apple iOS devices. There is even a complete code template to help developers create applications for the iPad.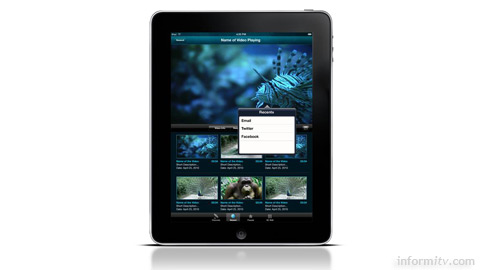 With the world apparently split between Flash, which remains dominant for online video delivery, and native HTML5 support for audio and video, which is an emerging standard, Brightcove supports both using what it calls cross-platform smart players.
"Several years ago we introduced this XML format for creating interactive video experiences, called BEML. It allowed a web developer to create a completely customer player experience without having to write Flash." That abstraction has allowed the same definition to be used to create a comparable experience in HTML5. "The result is that an organisation can create a single custom video template and it will automatically provide a parity experience across the different platforms and devices."
"This is really killer," he enthuses. "On an iPhone you get a branded player, and it plays back embedded, so it preserves that brand context." It is equally applicable to Android phones. "We've been testing it on a wide range of HTML 5 compatible smart phones. To the degree that connected TVs embrace HTML5, which many of them are, it allows us to get that portability of experience into some of those environments as well."
Brightcove has tooled up its analytics, providing a unified view of usage across Flash and HTML5 players. He will not be drawn on whether this is in response to increased competition in the online video platform space, suggesting it simply addresses customer demand.
In partnership with Akamai, Brightcove now offers high-definition live streaming, including the ability to pause and replay, with media becoming available for video on demand immediately after the live event. He describes the system, which uses standard HTTP protocols, as an order of magnitude more scalable than streaming from a Flash server. "The scale of their network means that you can deliver television level experiences to millions of live viewers."
World view
So does he see geographic differences in the adoption, usage or quality of online video around the world? "The US and the UK are actually quite similar in my experience in terms of maturity," he says but countries like Germany, France and Spain are still not as mature in terms of monetisation.
Brightcove has shifted its focus from mainly media companies to marketers, retailers and other organisations that can use video as part of their communications strategy. As a result it doubled the size of its customer base in six months and is growing rapidly. All these clients have the similar needs to reach users on new platforms and understand their audiences better.
While a number of broadcasters have invested heavily in their own video platforms, Jeremy Allaire believes that this is unsustainable. "The bar is just getting higher and higher," he says. "We are signing more and more major broadcasters in every market. My prediction is that over the next twelve to eighteen months virtually every top-tier broadcast media company will outsource a significant amount of their online video platform operations." To address their requirements Brightcove has had to gear up its operation. "We've had to make some pretty big investments in ingest, transcoding, advertising, and security," he concedes.
The next challenge will be the growth of network-connected televisions. "Apple's new TV product, I think will be very successful. Then you have Google TV, which I think is quite compelling as well. Most of the top-tier consumer electronics companies are going to do their own version of the same thing." It will be a similar picture to that we have seen in the smart phone market and Brightcove is expecting "a frenzy of consumer and publisher interest".
On the British YouView initiative he is appropriately diplomatic. "The fact that you've got this standardisation and collaboration means that it could get some real traction," he says. "It will be interesting in the long run, because everyone's going to have a consumer electronics product that's going to be much broader in terms of what it does, with millions of developers innovating and building applications."
The Brightcove platform was originally founded on Flash technology but Jeremy Allaire is positive about the future for open standards. "I think that HTML5 just in general as an architecture for rich interactive applications is going to gain in ascendancy. For video in particular it will largely be focussed on these new platforms. It will take several years before it's viable for the personal computer."
He is equally optimistic about WebM, the multimedia format being promoted by Google, following its acquisition of On2 Technologies and the release of its VP8 video codec into the public domain. "Video is a fundamental content type. It needs to be based on standards, free of intellectual property encumbrances, free to implement on any platform. I'm a big believer in that," he says. "Google has made very clear is that they feel that innovation in video in the standards body world has been far too slow. I expect Google to have an innovation curve in video that outpaces the MPEG consortia."
"I think the biggest challenge still facing over the top television is the architecture of the internet is not designed for broadcast," he continues. "Multicast has been available for a long time but now there's a really good reason to get that rolled out. So I think multicast and peering models built on standards, built into the core routing infrastructure of the internet, all the way out through consumer devices, will happen, but it will take five years. Then I think you get to a point where the existing broadcast model is not necessary anymore."
It is five years since Brightcove launched. In five years time, Jeremy Allaire sees video becoming as ubiquitous and pervasive as text on the web. "Anything like this takes ten years. So we're like half way through," he says. "We're still a long way from that but there's good evidence that it's happening."
"I just think the human preference for it as a media type is so great that it will just become part of so many more contexts for how we access information. Human communication, and how we convey information, is being reinvented in this format, which is only really 50-60 years old, compared to the written word or to images. It will just weave its way into all these contexts. We'll just come to expect it."
Jeremy Allaire, the chief executive of Brightcove, was interviewed by William Cooper exclusively for Connected Vision © informitv 2010.