Sony has launched the first Google TV, claiming to offer the first high-definition television able to support applications and browse the web on one device. The price point is competitive, costing around $100 more than existing Bravia internet televisions. Accessing the full web on television requires a full keyboard. Time will tell whether that is what consumers want but if it turns out they do it will be difficult to sell a television without one. Whether it is easier to control your television with a keyboard is another matter.
"Sony Internet TV is the world's first HDTV that combines the big-screen impact of television and full Internet search to deliver an unrivalled entertainment experience," said Mike Abary, senior vice president of the Sony Home Division. "Finally, you can seamlessly search your favourite TV programs and web sites on the same screen, at the same time."
Sony Internet TV is built on the Android platform, runs the Google Chrome browser and is powered by an Intel Atom processor. It has integrated Wi-Fi to connect wirelessly to home networks. There is also integration with selected digital video recorders from Dish Network. All but the small 24-inch models feature LED edge lit LCD screens. For those that may already own a television, there is a Blu-ray disc player to upgrade their existing display.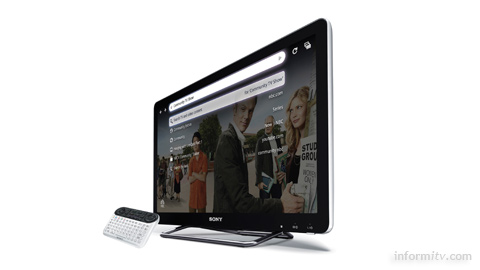 The Sony products feature the Qriocity video on demand service, as well as pre-installed apps including Pandora, Netflix, YouTube, Facebook and Twitter, but there is currently no access to Hulu. Apparently Hulu is locked in discussions about bringing their premium subscription service to the Google TV world.
Notable is the hand-held full keyboard wireless remote with mouse, intended for web browsing. It is styled rather like a console handset, designed to be held in both hands and operated with the thumbs. It may be overkill for a channel changer but whether it is a game changer is uncertain. It is a remote control for the texting generation but probably not their parents.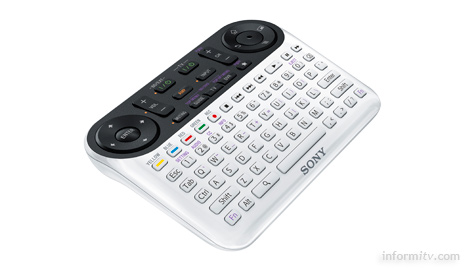 An app to allow remote control using an Android phone will be available for download from the mobile Android Market later in the year.
Sony has a web site for application developers where they can register interest in receiving further information.
The Sony Internet TV line ranges from the 24-inch model at $599 to a 46-inch model at $1,399, with the Blu-ray Disc player at $399. Google TV products are currently only available in the United States, with international roll out expected in 2011.
With Google TV the web is not so much integrated with television as overlaid on it, a true over the top approach.
Fifteen years after the first attempt to introduce WebTV, it is not yet clear whether the Google TV approach is the genuine hypertextual hybrid marriage of television and the web for which we have all been waiting or the hyperactive illegitimate child of both.