Much has already been written about the new Apple iPad, which some have dismissed as little more than a large iPhone. It is undoubtedly more than that, but falls short of expectations in its inability to display or output high-definition video. Despite the disappointment of some, the iPad is a significant device in the development of digital video distribution.
Steve Jobs likes to use emotive terms like "gorgeous" to describe the Apple iPad screen. His keynote launch presentation was short on specifics, beyond the fact that it had a 9.7 inch display. That is to say, 9.7 inches or 246mm across the diagonal, surrounded by a rather large bezel, in a device that measures around 9.5 by 7.5 inches.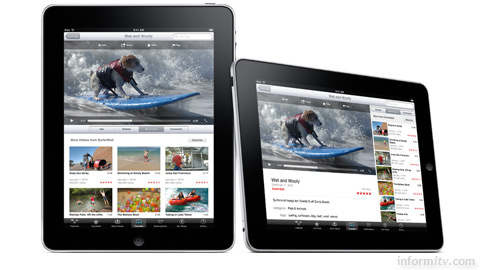 At a 132 pixels per inch, the iPad has the same pixel density as the iPhone and iPod Touch. It is this pixel density that provides the impression of image quality, rather than the absolute resolution of 1024×768, which is less than 0.8 megapixels.
The display also uses in-plane switching or IPS technology, designed to provide a 178° viewing angle, without shifts in colour or contrast when viewed from an angle.
The iPad will decode H.264 video up to 720p at up to 30 frames a second, like the Apple TV, but is not capable of displaying or outputting in high-definition. It will output to an external screen via a VGA adapter, or deliver 576p and 480p standard definition with an additional component audio video cable, or an interlaced output on a composite cable.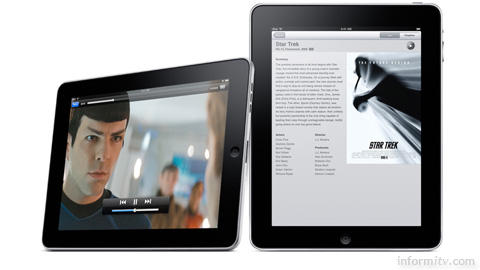 The display has a 4:3 aspect ratio, rather than widescreen. As a result, full screen 16:9 widescreen video will be displayed letterboxed at 1024×576 pixels, with a 96 pixel border top and bottom. Although this space can be used for user interface controls, many consumers seem to resent video that does not fill the display.
A 1024×768 display is relatively low resolution by current standards. Many laptop screens offer higher resolution widescreen displays. Lower resolutions reduce the requirements for processing, storage and network transfer, and may be more than fit for purpose.
Some might have expected Apple to offer a display of at least 1280×720 pixels but this would have required a display density of 165 pixels per inch.
In comparison, 300 pixels per inch is the standard resolution for colour print reproduction, although the resolution of monochrome print is much higher, typically more than 1200 pixels per inch.
Nevertheless, the display resolution of the iPad is over five times that of the iPhone and iPod Touch, making it a much more attractive proposition for video services. It is also far higher than the resolution of current mobile video standards, and better than standard definition television, with the benefit of progressive rather than interlaced scanning. As a result the iPad is technically capable of providing superior output to a DVD. Then again, so are most modern laptop and desktop computers.
Apple still refuses to support Adobe Flash, largely for competitive rather than technical reasons. That significantly limits the opportunities for rich interaction. Support for video playback is generally restricted to a standard video controller, although HTML 5 could offer native video playback within the Safari web browser.
Given the use of H.264 Main Profile level 3.1 encoded video and AAC-LC audio in .m4v, .mp4 and .mov container formats, and the HTTP streaming support introduced for the iPhone and iPod Touch, the iPad remains eminently compatible with online video standards.
The question remains as to whether it is a game changer for online video. Although there have been many tablet format devices, the Apple iPad is pioneering a new category of consumer electronics product. The iPad can serve as a portable interactive internet television and much more besides. It will no doubt be successful despite its apparent limitations, and will encourage many successors and imitators.