3D was undoubtedly one of the key themes at the IBC show in Amsterdam. Sky has already announced that it plans to launch a stereoscopic 3D service in 2010. Some experts are concerned that industry standards have yet to emerge, while others are suggesting that it could cause problems for viewers.
In the opening conference keynote, Roger Mosey, who is responsible for coverage of the London Olympics in 2012, said "We could, and I believe should, capture some of the games in 3D". He acknowledged that nobody would expect comprehensive 3D.
"It would be a shame not to have any images of London that were part of an experiment with what will be one of the next big waves of change," he said, adding that it would be at the very least "a major gap in the archive". He also alluded to plans for some Ultra HD or Super Hi-Vision coverage, but said "Both 3D and Super HD are currently posing questions and opportunities rather than solutions".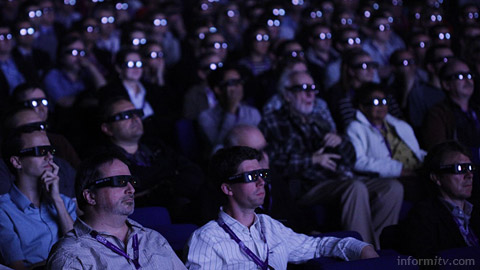 Sky has already announced plans to launch a 3D service in 2010, possibly in time for the World Cup and certainly well ahead of the London Olympics in 2012. Speaking in a panel chaired by William Cooper of informitv, Gerry O'Sullivan, the director of strategic product development at Sky, did not give much away about their plans. However, a live satellite demonstration was on show, using a standard Sky HD box, and the results were impressive. This required passive polarised glasses, rather than the active shutter glasses favoured by Sony.
Then there is the issue of transmission format. Sky is currently combining the left and right eye images side by side in a single interlaced frame, effectively halving spatial and temporal picture resolution. Sony is talking about sequential display of a full frame image for each eye, which is also the preferred approach of the Blu-ray Disc Association.
Although 3D is already available in cinemas, it seems very little research has been done into viewing in the home, which is an altogether different environment to being seated in a dark theatre. David Wood of the European Broadcasting Union presented a persuasive paper which suggested that stereoscopic presentation could cause eyestrain, unless great care was taken, as a result of conflicting cues received by the eye and brain. It is also believed that around one in ten people cannot actually perceive the stereoscopic image correctly and there has been little research with young children.
Kevin Murray of NDS, which provides software for the Sky set-top box, has been experimenting with stereo vision, which raises a number of interesting issues. Among them are how to scale picture in picture images, dealing with fast forward and fast rewind modes, and where to present subtitles and other captions in the depth field. NDS has even produced concept programme guides that work in 3D. Whether or not they are viewed stereoscopically, it seems likely that faster graphics processing will give rise to interfaces that employ depth and perspective.
Proponents of 3D, including experienced stereographers, have learnt how to create a powerful impression of depth using stereo images, but this can involve creative compromises and often tends towards exaggerated effects that draw attention to the phenomenon, rather like an illusion favoured by the Victorians, which indeed it is.
3D has often been advanced as the next big thing in cinema. After shooting his stereoscopic Dial M For Murder in 1954, Alfred Hitchcock declared 3D "was a nine-day wonder–and I came in on the ninth day".
More recently, the most successful theatrical films have so far included computer animations, which are created in 3D and can rendered stereoscopically relatively easily. All eyes will be watching the long awaited Avatar from James Cameron, a confirmed believer in 3D. Extracts were shown during the IBC Awards Ceremony.
Among the impressive demonstrations shown in the auditorium was a programme shot for Sky on a rainy day in Manchester showing a world record run by Usain Bolt, the fastest man on earth. Equally remarkable were the participants of the festival of San Fermin, seen in a preview of Running with Bulls, a forthcoming IMAX 3D film shot at Pamplona in Spain.
It may have been the strain of the conference, or the after effects of the awards celebrations, rather than eyestrain, but this correspondent emerged feeling somewhat dizzy. If 3D turns out to be half as popular as some suggest, the entire television business could be facing a headache.