Sky is offering advertisers the ability to deliver longer-form advertising to digital video recorders, enabling viewers to record extended spots by pressing the green button on their remote control. It works in a similar manner to the green button reminder prompts on promotions that can be used to select programmes to record.
Through the green button, viewers will be able to book recordings of extended versions of advertisements, to find out more about particular products or services, or access related behind-the-scenes or exclusive material.
The extended programming can range from a couple of minutes to a couple of hours and can even support the equivalent of series linking for advertising.
An on screen prompt will appear during a conventional commercial spot. Viewers with a digital video recorder will be able to press the green button on their remote control to book a recording of the longer form video when it is subsequently broadcast, twice a day. Once it has been recorded, it will appear in their planner, alongside other programmes.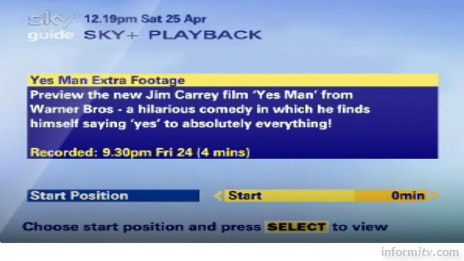 Originally due to launch last spring, the service is now expected to be available in June, initially across 50 channels in the Sky Media portfolio, including all the Sky wholly-owned channels. The first campaigns planned include movie trailers.
The green button service extends the long-form advertising opportunities offered to advertisers, complementing existing red-button interactive advertising and pre- and post-roll advertising through the Sky Anytime push video-on-demand service.
"Sky has continually sought to innovate for advertisers and provide them with more choice and greater opportunities in reaching audiences in new and engaging ways," explained Chloe Smith, head of interactive advertising at Sky Media.
"Green Button provides brands with the opportunity to develop high-quality long-form content catering to those audiences who want a closer relationship with particular brands, or who would value access to exclusive content which has been developed or funded by an advertiser," she said. "And with the added functionality of Sky+, they can interact with those brands at a time of their choosing."
One might wonder why anyone would want to record an advert, given that many people seem to use digital video recorders to skip commercials, but experience with interactive advertising has shown that some commercials can be sufficiently compelling, particularly if they are related to high-profile launches.
The green button solution offers a more cost-effective means of delivering long-form material than traditional interactive advertising, which can require video loops to be continually broadcast around the clock. It also takes advantage of the existing capabilities of digital video recorders, allowing viewers to watch longer form commercials at their convenience, rather than interrupting their viewing.
Sky high growth
Sky has continued to grow is subscriber base, despite the recession, and is now in over 9.3 million homes across the United Kingdom and Ireland. Over 5 million now have a Sky+ or Sky+ HD digital video recorder, providing a large addressable audience for advertisers, representing nearly one in five television homes. Over a million of them have high definition, an increase of over a quarter of a million in the last three months, since Sky cut the cost of a Sky+HD box to £49.
"The combination of the long-term trend towards high definition and the launch of our new HD box strategy generated a huge response," said Sky chief executive Jeremy Darroch.
Subscription retail revenue rose in the last nine months to more than £3 billion, while advertising revenues for Sky fell by 6% to £234 million, reflecting the weak television advertising environment, which was down by around 12% across the board.
With additional options such as the green button, Sky is continuing to invest in innovations for television advertising, taking advantage of the capabilities of its platform to make it a more attractive environment for advertisers.