The Norwegian Broadcasting Corporation has set up its own BitTorrent service. After successful tests last year it is planning to use this form of peer network distribution on a more regular basis. NRK is promoting the free and open source Miro software as its preferred BitTorrent client.
NRK has set up its own BitTorrent tracker to enable unprotected files to be distributed using a peer to peer network.
"By using BitTorrent we can reach our audience with full quality media files," the broadcaster announced. "Experience from our early tests show that if we're the best provider of our own content we also gain control of it."
As the NRKbeta web site says, "If you want control of your content you need to lock it down in a vault and never show it to anyone. We gave up control of our content the day we started broadcasting. For years our most popular content have been available on BitTorrent and on sites like YouTube anyway. DRM doesn't work." Their doctrine is that "The only way to control your content is to be the best provider of it."
"With our own tracker we will get better statistics and gather important data about how this technology works."
The first programme that the broadcaster is publishing in this way is a popular series about people living in remote places in Norway.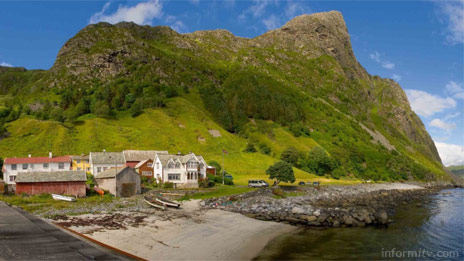 The broadcaster is providing full quality video files with no digital rights management. So far the experiment is limited to a few of its own productions. It says that record labels, actors, external production companies and format rights owners usually have contracts that prevent it from freely distributing programming on the internet.
"We are in constant negotiations over these issues," it writes, "and it seems like it should be possible to find a solution where NRK gets the rights it needs and the rights holders get the compensation they want."
Norwegian subtitle files are provided and viewers are encouraged to contribute their own "fansub" files.
The Norwegian Broadcasting Corporation is promoting the free and open source Miro software as its preferred BitTorrent client.
NRK is the leading television and radio broadcaster in Norway. Like the BBC it is predominantly funded by a licence fee. It operates as a limited company, with the Norwegian government owning all the shares.
Comments on the beta technology web site for NRK welcomed the development as an example of a progressive approach to digital distribution. "Someone from the BBC needs to book a few fact-finding trips to Norway," suggested one. Another said that while "NRK has always looked to BBC as the gold standard, and now it's completely reversed, at least for this initiative."
Interestingly, when what was to become the BBC iPlayer was first discussed over five years ago, there was a proposal to use BitTorrent and RSS feeds. Had that been adopted, the BBC might have led public broadcasters in this direction some time ago.