A British company aims to provide access to high-definition television throughout the home using wireless connections. Axar Media has developed a video sender and receiver that uses H.264 compression and Wi-Fi to deliver high quality high-definition video across all rooms in the home. The product is attracting interest from pay-television providers as a user-installed way of supporting secondary displays.
The latest WiFi standards have the bandwidth to deliver compressed high-definition video, but making it work reliably in the home is another matter.
"Delivering live TV over Wi-Fi has unique constraints. You can't simply treat video like other forms of data. The home is an extremely hostile environment for wireless signals, given the potential for interference from household appliances and other networks, so ensuring robustness has been high on our agenda," explained Professor Andrew Nix. He co-founded of Axar Media together with Professor David Bull.
Newly-launched Axar Media is the consumer division of ProVision Communications, a technology company spun out of the University of Bristol. Since 2001 ProVision has worked with leading broadcast operators and set-top box manufacturers including BSkyB, Pace, Thomson and Toshiba.
Last September ProVision appointed former Lucent executive David Rogers as chairman. He was previously chief executive of Amstrad and vice president of the Philips Consumer Communications division.
David Sykes, the chief executive of Axar Media, showed a prototype of their product to informitv. It basically combines an AVC H.264 video encoder with a multiple antenna 802.11n Wi-Fi transmitter that can send the signal to one or more receivers, or other Wi-Fi equipped devices.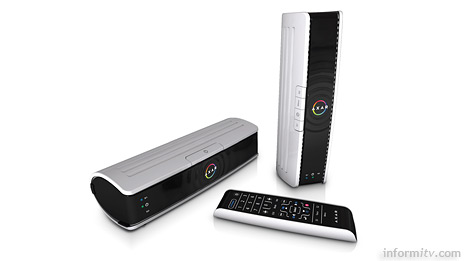 It apparently worked well enough connecting rooms across the corridor of the Venetian hotel in Las Vegas during the Consumer Electronics Show, where it attracted interest from cable and satellite television operators. We have been promised an opportunity to try it out back at informitv to see how it works in practice.
Currently accepting analogue component video inputs, the plan is to support HDMI in the future. Ultimately the transmitter it could be built into set-top boxes to deliver the original compressed video signal.
This raises the issue of content protection, implying that remote devices would need appropriate conditional access systems.
It is not the first Wi-Fi solution that informitv has seen. Ruckus Wireless has had some success with its MediaFlex solution. However, Ruckus is primarily a wireless network product company.
The difference, claims Axar Media, is that it has a deep understanding of digital video compression and can take into account the unique requirements of error protection for video signals.
There are other ways of transmitting video over internet protocol around the home, such as wired Ethernet and using mains electricity circuits with systems such as HomePlug.
One of the advantages of a Wi-Fi system is the prevalence of support in personal computers, allowing the prospect of viewing signals from a set-top box on a laptop, handheld media player, or even mobile phone.