British satellite broadcaster Sky and commercial network ITV have separately launched new online video players based on Microsoft Silverlight. While the BBC is backing Adobe with its iPlayer, Sky has relaunched its Sky Player and ITV has relaunched its own service, which it is rebranding as ITV Player. Both use the latest version of Silverlight, Windows Media and PlayReady encryption to support Windows and Mac computers.
The new release of Sky Player for the first time allows broadband connected users in the United Kingdom and Ireland to subscribe to packages of Sky premium channels without the need for a set-top box.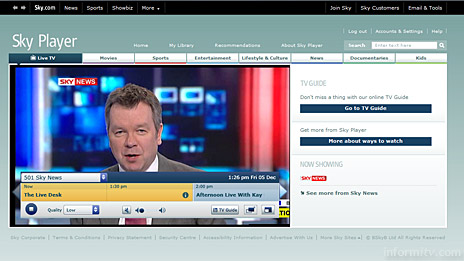 Online subscription packages start at &pound15 per month, discounted to £7.50 a month until February. The bundling strategy includes channels such as Disney and MTV in the base tier, adding further Sky Sports channels. A full package including all the Sky Sports channels will be £34 a month.
Existing Sky Multiroom or Sky Broadband Max customers can watch live channels at no extra charge, in line with their television subscription. This provides an bonus for the Sky subscribers already paying for these extra services and perhaps an incentive for others to upgrade.
Streams are provided in three different qualities, with bitrates up to 1.8 Mbps. The higher quality streams are high resolution, comparable to standard definition television, but repeatedly rebuffered on our test broadband connection.
Sky offers its own broadband offering separately or bundled with its other subscription packages. The provision of its premium channels over broadband is perhaps the first step in an IPTV strategy. It has for some time offered premium channels to other operators such as Tiscali, but this is the first time they have been available separately, for a monthly subscription.
At around the same cost as a set-top box package, the online version is currently no substitute for the full television service, but it offers added value to existing subscribers.
Silverlight is used to provide an overlay electronic programme guide similar to that on satellite. New Microsoft PlayReady content protection technology is used to deliver Windows Media encoded digital rights managed material to Silverlight clients on both Windows and Mac computers.
Existing Sky TV customers will still have access to the Sky Player in line with their television subscription, although Mac users will have to wait until next year for the large library of video on demand programming, including movies.
The new Sky Player is a slick redesign, with the video window implemented in Silverlight rather than using Windows Media Player. It includes a well-designed channel guide browser bar with programme information, with a link to a comprehensive scrollable electronic programme guide that is now better integrated into the Sky Player web site. The navigation has been improved and the user interface is clean and tidy.
"Microsoft Silverlight and PlayReady allowed us to build and launch this innovative service quickly, easily and in a package that provides consumers with even more flexibility in how they engage with Sky content," said Griff Parry, director of on demand at BSkyB. "As technologies that can reliably enable the rich delivery of high-quality protected content to both Windows-based PCs and Macs, the use of Silverlight and PlayReady was key in helping us provide our customers with more choice and control over their viewing."
Programmes and movies can still be downloaded through the Kontiki peer-assisted distribution manager for later offline viewing.
A selection of programmes from the BBC is also available, although these link through to the BBC iPlayer site.
ITV Player
Commercial broadcaster ITV has meanwhile relaunched its online video service and announced that it will be called the ITV Player. "The new logo is part of our aim to create a recognisable and consistent brand for video-on-demand content across the web and TV," said Ben McOwen Wilson, the director of online at ITV. The new identity will be promoted on air in the run-up to Christmas.
ITV has also updated its web site with a video player based on the latest version of Microsoft Silverlight. Like the Sky Player, it requires a download, installation and browser restart.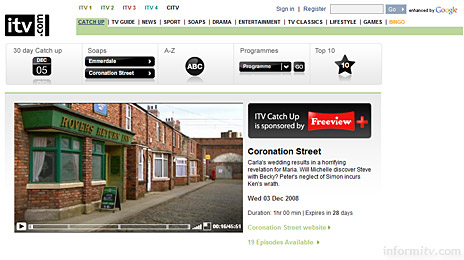 The ITV experience is much more cluttered than Sky, surrounded by animated banner adverts, with video sandwiched between multiple pre-roll and post-roll commercials.
Both the Sky and ITV online video services are implemented and operated by ioko. The move to Microsoft Silverlight is an improvement on the embedded Windows Media Player and provides support for Mac computers. It also enables the interactivity and overlays that have been available with Flash for many years. Silverlight itself supports playback of Windows Media and VC-1 formats, with H.264 promised in the future.
One possible benefit for broadcasters is that Silverlight 2.0 supports the latest encryption and digital rights management technology from Microsoft, known as PlayReady. This now includes the concept of domains, so licences need no longer be bound to a single machine. Multiple devices can be part of a domain, allowing users to play back material on different designated devices within a controlled domain.