Livestation, an online television platform, has shown a version of its player working on the Apple iPhone. The live online demonstration came days after Joost released an application for the Apple device. Livestation has yet to have its application added to the Apple store. The Joost and Livestation applications can currently only be used over a Wi-Fi connection, but Joost says 3G will be enabled soon.
Livestation launched as a peer assisted network application, streaming news channels from international broadcasters. The original concept was developed in consultation with informitv. Initially only available on Windows, using Microsoft Silverlight, it has since been developed as a native application for Windows, Mac and Linux.
Livestation has since added over 2,000 channels to its player, or rather its users have. Livestation claims that it simply links to streams that are already available on the internet. The result is a rather random selection of services of variable quality and availability.
It remains to be seen whether this YouTube approach to online television will work, or provide an attractive environment for advertisers. The legitimacy of linking and reframing in this way is questionable and may be in breach of the terms of service of many broadcasters. A Bloomberg channel, apparently added as a link by 12,000 users, has been removed at the request of the broadcaster.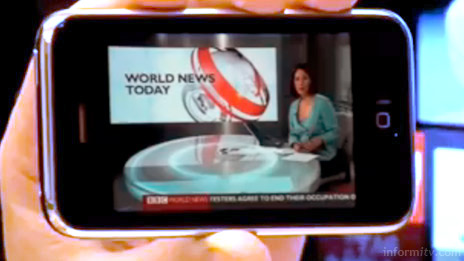 Matteo Berlucchi, the man behind Livestation, appeared in a charmingly unassuming webcast in conversation with Guardian journalist Jemima Kiss to demonstrate Livestation on the iPhone. Like Joost, Livestation appears to have developed its own video player and is simply streaming video to the device. Unlike Joost, the application is not yet available through Apple.
Mike Volpi, who heads Joost, says that its library of 45,000 licensed videos is now available on the Apple iPhone and iPod Touch. He says a large proportion of the library will also be available over 3G mobile networks "very shortly". Among its library Joost has around 18,000 music videos.