A new hybrid broadcast and broadband box will allow the French pay-television broadcaster Canal+ to deliver interactivity and online video to the television through a built-in network port. Exclusively provided by Pace France, formerly the set-top box division of Philips, the first integrated high-definition digital video recorder for Canal+ is literally a box, called +Le Cube.
"The development of this technically challenging product, possibly the most advanced set-top box on the market, and its delivery on time was made possible due to the strong cooperation between the Pace and Canal+ Group engineering teams," said Hervé Mathieu, responsible for sales at Pace France. The former set-top box division of Philips, which was acquired by Pace in April, has been working with Canal+ for 24 years.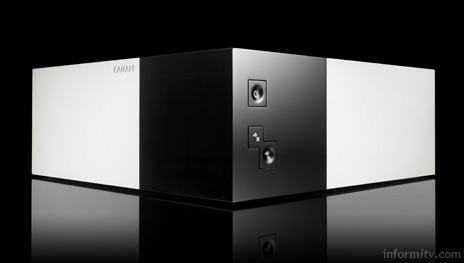 The futuristic box was designed by Yves Behar, founder of the Fuseproject design studio in San Francisco and New York.
+Le Cube has a striking black and white rectangular design which can be placed horizontally or vertically. The control panels are set in one corner and a gyroscopic detector orientates a small display accordingly.
The320GB hard disk has been optimised for near-silent operation. As well as acting as a conventional digital video recorder, the network connection enables multiroom services and allows video to be downloaded over broadband.
+Le Cube has been designed to support and enable new services to Canal+ and Canalsat subscribers, including catchup programmes and access to the latest imported series, in high definition, less than one week after they have been shown to American audiences.
The broadband connection will also be used to support recommendations for viewers and other interactive services.
Canal+ Group is the leading pay-TV operator in France with over 10 million subscribers to a wide range of services including Canal+, CanalSat and the former TPS.