OpenTV and Adobe have announced an agreement to integrate Flash Lite software with OpenTV middleware. OpenTV is also joining the Open Screen Project to help define the television profile and requirements for user experiences on television screens. At IBC OpenTV has been showing its next generation concept interface.
"This collaboration is significant in that it brings two market leaders together to provide the best solutions for consumers of digital television," said Tracy Geist of OpenTV. "By combining our technologies, the authoring and development benefits of Adobe Flash with the digital TV experience and technology of OpenTV, we're opening the door to a host of new service possibilities for operators and developers worldwide."
"Together, Adobe and OpenTV can push the boundaries of digital TV application development and bridge the gap between various sources of content, such as web and television," said Gary Kovacs, responsible for mobile and devices at Adobe. "By combining the rich graphical effects of Flash technology with the advanced features of OpenTV's Core middleware, we're enabling developers of digital television services to leverage the best technologies for the delivery of advanced services to consumers worldwide."
The first commercial deployment of OpenTV Core2 middleware with integrated Adobe Flash support is expected to be targeted at the Japanese market in the second half of 2009.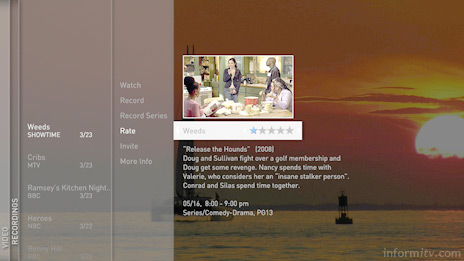 At the IBC show in Amsterdam, OpenTV demonstrated its latest concept work for user interfaces. In previous years these have been prototyped in Flash, but the version shown on their stand has now been incorporated into a set-top box.
The result was slightly more conservative than previous visual user interfaces that have been shown by OpenTV, but was eminently practical.
OpenTV Core nX supports social features such as personal ratings and recommendations that can be shared using buddy lists. This is an indication of the way that web thinking has begun to influence the future of the television user interface.
OpenTV is a leading provider of middleware for digital television operators, competing with companies such as NDS. OpenTV was acquired by the Swiss Kudelski Group in March 2007.