A new remote control offers point-and-click interaction using motion control sensors. The Dolphin remote control is based on technology from Hillcrest Laboratories and allows on-screen items to be selected by simply pointing and clicking. A similar remote will also be used in a new multimedia player from Kodak. Hillcrest Labs has meanwhile filed a patent suit against Nintendo over the use of motion-sensing control in the Wii games console.
On show at IBC this year, the Dolphin remote control was being demonstrated by Universal Electronics, the company that makes remote controls used by many of the leading television operators around the world.
The Dolphin remote allows the user to control an on-screen cursor simply by pointing and clicking the handheld control, rather than having to click through menus using arrow keys. The result, once you have got used to it, is very intuitive — rather like using a mouse with a computer.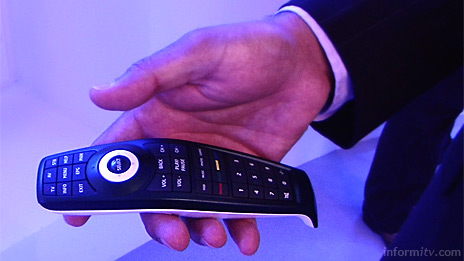 Universal Electronics licensed the Freespace technology from Hillcrest Labs earlier this year. The technology has also been used in the Logitech MX Air cordless mouse, which can be used for computer multimedia and presentations.
Regular readers of informitv may recall that Hillcrest developed a prototype ring-shaped Loop remote control. The company raised $25 million to bring its technology to market.
The implementation from Universal Electronics is much more conventional in design. It is about the same size as a regular remote, with a slight bulge in middle to house the electronics, fashioned to give a dolphin-like design.
Hillcrest has also licensed its technology to the Eastman Kodak Company. Better known for film, Kodak has developed a high-definition media player to provide interactive access to digital photos and video on a high-definition display.
The Kodak Theatre HD Player will retail for $299, and will have partnerships with online services such as Flckr and YouTube.
Hillcrest is licensing its technology to manufacturers with a reference implementation combining its HoME zoomable user interface and Freespace technology.
Hillcrest Labs, based in Rockville, Maryland, has meanwhile filed suit against Nintendo, accusing it of infringing four of its patents with its highly successful Wii game console.
"While Hillcrest Labs has a great deal of respect for Nintendo and the Wii, Hillcrest Labs believes that Nintendo is in clear violation of its patents and has taken this action to protect its intellectual property rights," the company said in a statement.
Dr William Cooper of informitv will be discussing remote controls and user interface design as one of the speakers at uxTV 2008 in Silicon Valley, the first international conference on designing interactive user experiences for television and video.
www.ueic.com
www.hillcrestlabs.com
www.kodak.com
www.nintendo.com