Amino is launching the first 100% digital high-definition set-top box. It is on show at the NXTcomm conference in Las Vegas. With an HDMI digital socket and no analogue outputs it is cheaper to produce and simpler to install. Amino has also acquired a former BT man as its new chief executive, along with the business of AssetHouse, an asset management company that emerged out of BT.
The AmiNET130M recognises the move towards HD-Ready flat screens which come with small digital HDMI inputs that carry both audio and video. In theory it should be cheaper, significantly reducing the bill of materials for the box, although of course the additional cost of an HDMI cable needs to be taken into account.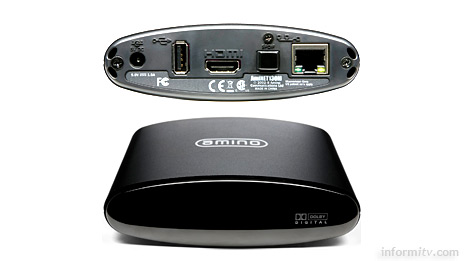 There is also a sister product that has a complement of analogue connectors. Both support H.264 MPEG and high-definition graphics, allowing service providers to offer richer user interfaces.
"This is another great example of Amino shaping IPTV with an innovative solution that recognises the dynamics of this fast evolving industry," said Andrew Burke, the recently appointed new chief executive of Amino Communications. He was formerly chief executive of BT Entertainment, where he was responsible for originally establishing their IPTV initiative, subsequently branded BT Vision.
Amino has also acquired the business of AssetHouse Technologies. Co-incidentally, perhaps, the company was founded by a team that developed asset management systems for BT. "Together, Amino and AssetHouse will close the loop between the set-top box and the merchandising, taking IPTV to the next stage," he said.
AssetHouse secured £4 million in venture capital funding in 2002. Amino acquired the business for £1.4 million, equivalent to its operating loss in the last year.
"Although currently loss making, we are confident that the acquired business will generate significant incremental profits for the enlarged group," said Keith Todd, the chairman of Amino.
"Under the Amino product umbrella we will be able to provide a far richer set of services," commented Jonathan Callcut, the chief executive of AssetHouse. "Our combined expertise and experience will create an exciting proposition, and we're looking forward to taking it to a market that we know is waiting."