"The early signs are very promising," said Jason Kilar, the chief executive of Hulu, just a month after the public launch of the ambitious online video venture. Speaking at the NAB convention in Las Vegas, he came across as confident and composed, addressing an audience that a few years ago might have been dismissive or distrustful of the concept of delivering video entertainment online. On this occasion they appeared enthusiastically encouraging.
Hulu is a joint venture between NBC Universal and News Corporation. Many may have had their doubts that such an initiative could possibly succeed. If it now shows early signs of success it may be largely attributable to Jason Kilar, who joined from Amazon, although he is equally keen to credit the support of his team and the senior executives from its shareholding companies that have been committed to making their programming available online.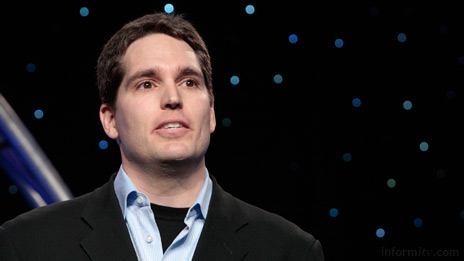 Online video viewing in the United States has more than tripled over the last two years, accompanied by a commensurate increase in spending on advertising.
"There's something afoot here," said Jason. "Clearly users are embracing media when it is made available on their terms." He describes Hulu as the ability to watch your favourite programmes any time, for free. "Our mission is ambitious and never-ending: help people find and enjoy the world's premium content, when, where and how they want to."
"It's long overdue for users to have media on their terms," he remarks. "The internet is a wonderful apparatus through which we can actually deliver on that mission." That mission has been approached with a singular focus on providing what he describes as "an atypically strong users experience".
Jason is a passionate advocate of the importance of the user experience. "There are so many web sites out there that look like Tokyo at night," he observes. "We felt that simplicity was important for this service." So simple and intuitive, he suggested, that his mother could use it within fifteen seconds. During testing he sent his mother a password and she called back half an hour later saying that she was already watching episodes of Alfred Hitchcock Presents.
Although often associated with programming from its parent companies, Hulu has partnerships with over fifty premium programming providers, including Warner Bros, Sony and MGM.
Even where it does not have the right to distribute programming, as in the case with ABC Disney for episodes of Lost, Hulu hopes to list programmes and link to where they can be legitimately viewed online.
"If we don't have it we want to send you to Gimbels," Jason said in a passing reference to the 1947 movie Miracle on 34th Street. In the film the man playing Santa at the famous New York store Macy's refers a mother to the rival store Gimbels. She is so impressed with his honesty that she becomes a loyal customer of Macy's. The irony is no doubt not lost that Gimbels has long gone, while Macy's remains.
Indeed, distribution is key to Hulu, which not only makes clips or excerpts freely available for inclusion on any web site or personal blog, but also makes available its entire library through leading online properties including MySpace, AOL, Yahoo and MSN.
For Jason, less is more, at least in design terms. Branding and navigation are there to support the programming. Video is placed front and centre, in full 16:9 widescreen rather than the 4:3 video that is often seen on the web, notably on sites like YouTube.
A limited number of trailers are available in a higher resolution format, which Jason demonstrates, filling the giant projection screen and filling the large auditorium with high quality sound.
Advertising is relatively restrained. Rather than a long pre-roll commercial, there is a brief slate presenting a message from a sponsor. In this uncluttered environment, Hulu can charge a premium, commanding rates per thousand impressions that are higher than those for prime time television. According to Jason there is no shortage of interest from brands. "Advertisers, I can tell you, are flocking to this kind of environment."
Premium content, extensive distribution and an atypical user experience are what Jason claims distinguishes Hulu.
"Media is not like oxygen, food or shelter," he observes, in that it is not necessary for survival.
In terms of a hierarchy of human needs, as popularised by psychologist Abraham Maslow, media might be considered as operating at a higher level that reflects a need for social belonging and individual self-esteem.
Appreciating the ways in which people actually use online media, rather than simply attempting to "monetize users" is perhaps critical to success. If Hulu can emulate the success of Amazon or Google, it may be well on the way to becoming the market leader in online video.