"This net-neutrality thing is a load of bollocks," said Neil Berkett, the recently confirmed chief executive of British cable company Virgin Media, as reported in the Royal Television Society magazine. He suggested that those that would not pay for faster delivery, like public service broadcasters such as the BBC, might end up in slower "bus lanes".
The unguarded comment betrays a misunderstanding of the purpose of bus lanes, which are intended to provide a faster service for public transport services, rather than those in private vehicles. Nevertheless, it suggests the possibility of two-speed internet access, with a fast lane for those willing to pay more for the privilege.
Virgin Media continues to vaunt the benefits of its fibre network, despite the fact that its service actually delivered to the home over a conventional co-axial cable.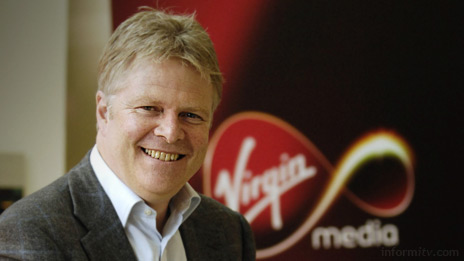 By his own admission, Neil Berkett knew "nothing" about the cable business when he became chief operating officer of the former NTL company in September 2005. His previous role was as managing director of distribution for the Lloyds TSB bank. He started his career at the Post Office in his native New Zealand.
In March was confirmed as chief executive of the Virgin Media company, having acted in the role following the departure of Steve Burch last summer to spend more time with his family.
The direct quotations from Neil Berkett appear in an article by journalist Kate Bulkley in the April issue of Television, the magazine of the Royal Television Society. She appeared to be citing comments made during a conference call announcing the fourth quarter results of Virgin Media in late February.
The comments emerge as the BBC iPlayer has been criticised by some broadband service providers, notably Tiscali, for the impact on its network. However, an additional version of the iPlayer will be launched in May through the video-on-demand service of the cable operator. This will use conventional video-on-demand servers to deliver the service to television sets through the Virgin Media set-top box.