Foxtel, the Australian pay-television operator, has announced details of its forthcoming high-definition service. It will offer programmes from the BBC, Discovery, National Geographic, Fox Sports and ESPN, as well as pay-per-view movies. The service will be available from mid-2008, together with a new iQ2 digital video recorder.
Details of the forthcoming high-definition service were announced at a press conference in Sydney, although pricing details and a launch date were not provided.
"Foxtel HD+ will deliver HDTV the way it should be," said its chief executive and managing director Kim Williams. "Foxtel has cemented its position as the leading innovator and provider of choice in television entertainment in Australia," he said. "Foxtel HD+ will provide consumers with a complete, innovative HD solution with the best pictures and sound that is very simple to use."
At launch there will be four high-definition channels, with programming from the BBC, documentary channel with branded blocks of programmes from Discovery and National Geographic, and sports coverage from Fox Sports and ESPN.
Foxtel says it is also committed to expanding the Foxtel HD+ service from as early as 2009 with the launch of a new satellite and access to increased cable capacity that will enable a range of new standard and high-definition channels.
Foxtel HD+ will support both 720p and 1080i high-definition formats in MPEG-4 and Dolby 5.1 Surround Sound.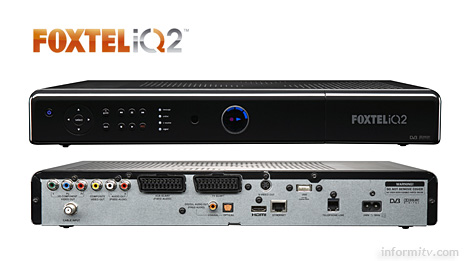 The service will require a new iQ2 digital video recorder with 320GB of storage, able to record up to 30 hours of high-definition or 90 hours of standard-definition programming. Part of the hard disk will be partitioned to provide reserved storage for the Foxtel Box Office HD push video-on-demand service. The recorder also includes provision for an Ethernet network connection.
There will also be a new version of the electronic programme guide, similar to that used by BSkyB and DIRECTV.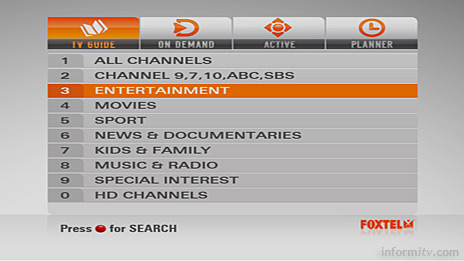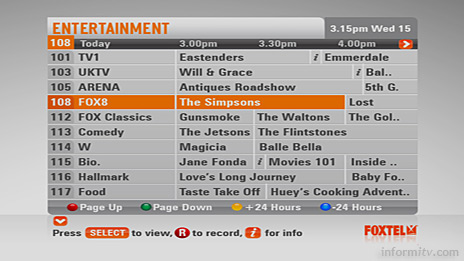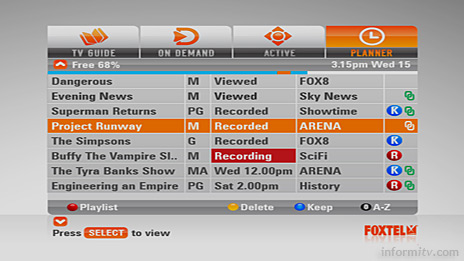 Patrick Delany, responsible for content, product development and delivery at Foxtel, said high-definition is the future of television. "Foxtel is not just dipping its toe in the HD pond," he said, "we are immersing ourselves by delivering Australian viewers four, 24/7 HD channels of some of the greatest television brand names who are the leaders in HD content and delivery."
The announcement of the availability of the BBC HD channel comes shortly after it was officially launched in the United Kingdom, where it was previously provided only as a trial service. BBC HD in Australia will be a multi-genre general entertainment channel built around factual, entertainment, and music and arts programming.
Foxtel is available to just under 1.5 million homes in Australia, representing over 28% of households within its satellite and cable footprint.
Telstra is the major shareholder in Foxtel, with a 50% holding, while the remainder is split between News Corporation and Consolidated Media Holdings. The latter, formed from the media interests of Publishing and Broadcasting Limited, which includes the Nine Network, is subject to a bid by Lachlan Murdoch and James Packer
The advance announcement of the forthcoming Foxtel HD+ service comes as the terrestrial networks begin to ramp up their high-definition offerings, which they have been simulcasting alongside their standard definition services for many years, limiting the potential for additional channels.
Until recently, their definition of 'high-definition' was rather elastic, extending to include 576 lines progressive, which by any other standards is standard definition. The ABC continues to use the 720p format, but the Seven and Ten channels have now moved to 1080i.
The Seven Network, which has the rights to the Olympics this summer, will be providing coverage in high-definition, following its high-quality coverage of the Australian Open tennis. Seven is aiming to provide its own terrestrial platform in partnership with TiVo.
The lack of a common electronic programme guide has generally limited free-to-air digital terrestrial television in Australia. Competition between channels has so far prevented the emergence of a co-operative platform model as seen in the United Kingdom with Freeview.
With an aggressive expansion into high-definition, supported by high quality imported programming and an intuitive electronic programme guide, Foxtel could become an increasingly dominant competitor to the terrestrial channels.