Rhapsody, the online music service, is finally available through any broadband-connected TiVo digital video recorder. It means millions of music tracks and thousands of internet radio stations are now available to TiVo subscribers through their remote control and the intuitive TiVo interface.
"By adding music to our portfolio of broadband offerings, TiVo is the only universal entertainment provider in the living room," said Tom Rogers, the chief executive and president of TiVo. "Since the beginning, TiVo has been focused on the principle of choice and control, giving our users the ability to experience TV on their terms. Together, TiVo and Rhapsody have extended the personal viewing experience on TiVo into music, providing consumers with an incredibly easy way to access their favourite artists from their television set."
"We're thrilled to bring Rhapsody into the heart of the living room with TiVo," said Rob Glaser, the chairman and chief executive of RealNetworks, which in partnership with MTV Networks, owns and operates Rhapsody. "By partnering with TiVo, we can now give consumers easy and unlimited access to Rhapsody's library of four million songs from the comfort of their sofa."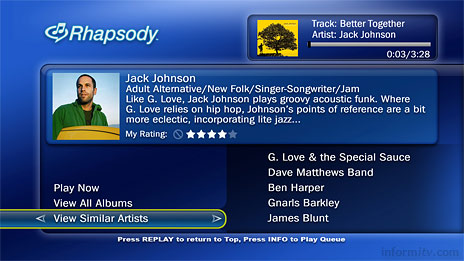 Users can search for music directly from their TV using the intuitive TiVo search features, browse charts of the most popular, artists, albums and songs on Rhapsody, check out new releases, or listen to thousands of radio stations to suit their mood.
There is a free 30-day trial of the service for TiVo subscribers. Consumers can choose to continue their Rhapsody service beyond the trial period for $12.99 per month. Current Rhapsody subscribers who have broadband connected TiVo digital video recorders can access their existing Rhapsody music libraries via their television at no extra charge.