Tesco is to sell a digital television set-top box for ten pounds — while stocks last. At half the cost of the cheapest previously available set-top boxes, the Techwood product is likely to be a loss leader for the supermarket chain. It comes as the United Kingdom prepares to begin switching off analogue signals.
"We know that many of our customers aren't ready for the change in the way their TV programmes are transmitted, so to get them prepared for the switchover from analogue to digital, we're offering this digital TV technology at the lowest price ever," said a Tesco representative.
It will be interesting to see how many boxes are available at this price and for how long. Nevertheless, it is illustrative of the dramatic drop in the cost of Freeview set-top boxes in recent years.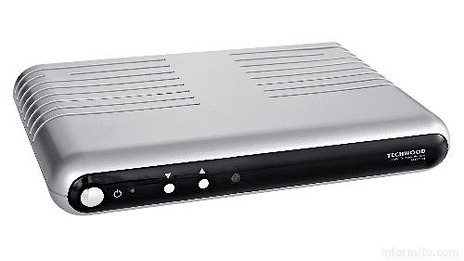 The move has been welcomed by Digital UK, the organisation charged with supervising the transition from analogue television in the country. The phased switch-off of analogue signals will begin in the Cumbrian town of Whitehaven in October.
"We've seen the cheapest digital box go from £100 to £10 in just five years and this is further proof that going digital needn't be expensive," said Ford Ennals, the chief executive of Digital UK. "We're now working with Tesco and the other supermarkets to help them provide switchover information in their stores."
Since its launch in October 2002, over 19 million Freeview compatible set-top boxes and displays with integrated digital receivers have been sold. Freeview has now overtaken Sky as the most popular way of receiving digital television. Many new flat-screen displays now come with integrated digital terrestrial television receivers as standard.
The communications regulator Ofcom estimates that over 80% of households now receive some form of digital television. That number will need to reach 100% by the end of 2011, when the switchover process is complete in the UK.
Several other countries have already completed the transition to digital television. Sweden is expected to complete the process just as Britain begins. Other countries have yet to set a deadline for the digital transition. New Zealand has launched its own Freeview service on satellite and aims to roll out a digital terrestrial television service next year.