Hong Kong telephone company PCCW HKT has launched a telephone with a screen and speakers. Called eye, it can be used to watch television, listen to music and access interactive services. It can even be used to keep an eye on the local pandas.
The eye has a 4.3-inch screen and stereo speakers and costs HK$128. It must be said that it rather resembles an Amstrad e-m@iler phone. The difference is that it has a colour screen and customers can watch television on it, even English Premier League football, if they so choose.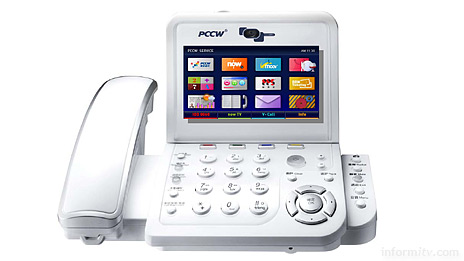 Customers can use the eye as their personal broadband television set or music player. It can also be used to pay bills and buy cinema tickets through the now TV service and search for phone numbers through the local Yellow Pages. PCCW is also partnering with other companies to roll out relevant applications and information services.
Tom Chan, managing director of the PCCW consumer group, said: "eye was designed so that every family member will find it simple to use. Without any need to be techno-savvy, consumers can enjoy content and have the convenience of managing day-to-day transactions — without having to rely on the computer."
That was the philosophy of the old French Minitel service, which became phenomenally successful. However, not every attempt to converge telephone and television services have been so successful.
PCCW, which operates the now TV network, is a strong proponent of converged communications services. With over 800,000 subscribers it is still the single largest IPTV deployment in the world.
Panda Channel
The latest addition to their programming line-up is the Panda Channel which will show the daily lives of the main attractions at Ocean Park. The four pandas are gifts to the people of Hong Kong from the government of China. The most recent additions, Le Le And Ying Ying, arrived in April to celebrate the tenth anniversary of the handover of Hong Kong.
"No matter where you may be — at home, in the office or on the move — you can watch these precious pandas at any time," said PCCW group managing director Alex Arena. "Connecting the pandas with the community via PCCW's platforms will engage the public, and strengthen their bond with these national treasures."
The Panda Channel is an excellent example of what broadband television is all about. It should be available globally.