Babelgum is joining Joost in its bid to create a global broadband video network. A phased release of the Babelgum application is being made available through original beta testers, pre-registered users and a limited number of downloads through the company web site every day.
"Today we have proven that the Internet can be used as a global distribution network for TV quality video," said Silvio Scaglia, the chairman and co-founder of Babelgum, who formerly founded the Fastweb broadband service in Italy.
Superficially, Babelgum seems very similar to Joost, using a peer-to-peer network to stream a theoretically unlimited library of material to millions of users worldwide — anyone with a personal computer and broadband internet connection. Access is free to the user and will be funded by advertising in the future.
"Babelgum has no ties to individual content owners and distributors and as a result our editorial strategy is primarily 'user-centric'," he explained. "That strategy ensures the platform satisfies the needs of a potentially infinite number of niche audiences around the world. By validating and aggregating the best material from a wide range of independent and mainstream content owners, Babelgum aims to encourage common interest communities that are not well served by traditional television."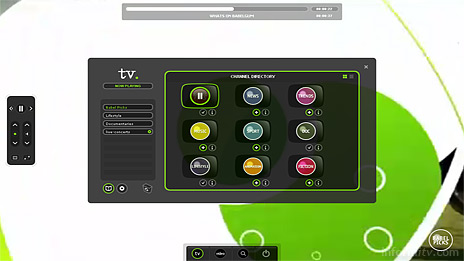 Programming is arranged in nine core thematic channels: highlights, news, sport, documentaries, lifestyle, trends, music, animation and fiction. Users can also create their own 'smart channels' using tags based on their personal interests, as well as browse and search for specific programmes.
Ministry of Sound TV, which is already present on the Joost network, will be providing programming from Ibiza. "Ministry of Sound TV is exactly the kind of content that Babelgum was designed to deliver," said Erik Lumer, chief executive of Babelgum. "Whilst the mainstream can always find a place on the traditional broadcast platforms, Babelgum provides niche content owners with a global platform to deliver in broadcast quality. It is an environment that places niche alongside mainstream and removes the constraints imposed by linear scheduling requirements and broadcaster policy."
"Our aim is not only to gain global exposure for our brand and content, but also to extend our network of viewers, while taking advantage of new advertising opportunities," explained Assia Grazioli-Venier, head of Ministry of Sound TV. "As the only crew permanently in Ibiza this season, we will be providing exclusive music and lifestyle content to our syndication partners. Our regular programming will also include festival coverage, DJ diaries and lifestyle features from New York, Sydney, Amsterdam."
While Joost has been signing distribution deals with major studios, Babelgum seems to be seeking a broader range of programming, although unlike YouTube it is targeting professionally produced rather than user-contributed content. The material currently on offer is limited, making it difficult to evaluate its full potential.
Babelgum and Joost so far fall short of providing a truly televisual experience. As platforms they both blend some of the social elements of the web with video distribution, but they could learn a lot from how broadcasters package, present and promote their programming. At the moment, the online platforms appear to be more of a technical proof of concept, created by computer programmers rather than television programmers.