The BBC is to suspend its online interactive service aimed at school children in support of the national curriculum. It follows industry concerns that the BBC Jam service is damaging the commercial sector, resulting in complaints to the European Commission.
The BBC Trust has asked management to prepare new proposals within three months. They will be subject to an open consultation and a public value test, with a market impact assessment from Ofcom.
A tart statement on the BBC Jam web site said that users would no longer be able to access the service and that any work that children had created would be lost.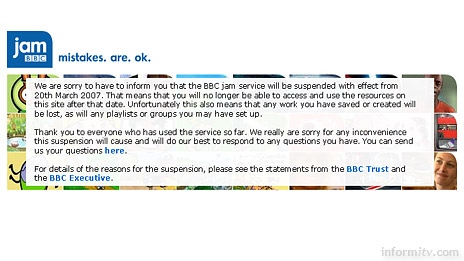 The digital curriculum project was originally approved by the BBC board of governors, the government and the European Union, subject to strict limitations. The service was eventually launched in early 2006 with a budget of £150 million. So far only around 10% of the material has been launched.
The Trust said that complaints had been made to the European Commission alleging that the service had not complied with its original conditions. As a result it has asked management to suspend the roll out of any further material.
It added that if the service were subsequently approved it would require European Commission state aid approval.
"The Trust's duty is to act in the interests of the public," the BBC Trust said in a statement. "Whilst we are not currently in a position to determine whether the BBC is non-compliant, as alleged by the industry to the EC, we cannot ignore the allegations facing the BBC right now and the ongoing prospect of challenge if action is not taken."
"We are sorry that BBC Jam is to be suspended, but we believe the Trust has reached the right decision," said Mark Thompson, the BBC director general. "We remain committed to the vision of serving learners with innovative content."