Babelgum is a new contender for the global broadband video market. Just like the Joost project from the creators of the Skype internet telephone service, it is based on a secure peer-to-peer video network. It is backed by Silvio Scaglia, who made a personal fortune from Fastweb, the Italian broadband video, voice and data service provider.
Babelgum is surprisingly similar to Joost. Both projects are currently being beta tested by informitv. They both provide full-screen video, using MPEG-4 H.264 AVC compression, streamed over a secure peer-to-peer network. There are also evident similarities in the on-screen user interface.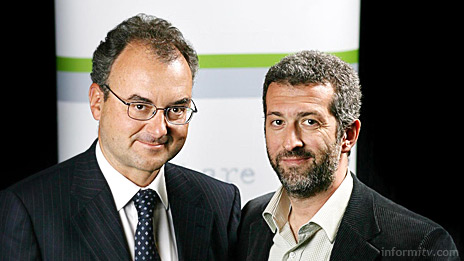 The Babelgum project was conceived when Silvio Scaglia met technology strategist Erik Lumer at the beginning of 2005. Silvio previously co-founded Fastweb, one of the first and most successful companies to deliver video to subscribers over a closed broadband network. Erik was a communications consultant with a PhD from Stanford who had previously worked at the Xerox Palo Alto Research Center.
A development team was established in July 2005 and began work in Italy and France. The development is being led by chief technology officer Mallku Caballero. He was previously co-founder and chief scientist at White Pine Software, which produced CUSeeMe, one of the first popular video applications on the internet.
Described as a global internet television network, Babelgum claims to combine the simplicity, immediacy and visual quality of traditional television with the interactivity, unlimited capacity and global reach of the internet.
The business model is based on enabling producers to present their programming to a global audience, letting viewers see both niche and mainstream material free of charge, and allowing advertisers to reach specific targeted audiences worldwide.
Babel Networks, the company that is developing Babelgum, is based in Dublin, with offices in London and another opening in the United States. It currently employs 30 staff, but that is likely to increase to around 150 by the end of 2007.
At the launch of Babelgum at a London hotel, Silvio Scaglia said the available broadband audience is estimated at 300 million and is growing at a rate of 30% a year.
It appears difficult to differentiate a distinction with the superficially similar service being developed as Joost, formerly known as The Venice Project. "We are not alone in this discovery," said Silvio. "I have never thought of this as a race."
Rights holders are now being invited to submit content, which will be free to view, eventually supported by advertising. Aimed at professional programming providers rather than user contributed content, rights owners will initially be offered a minimum revenue guarantee based on the number of views, moving to a revenue-sharing model in the future.
Leap of faith
The initiative is currently being financed by Silvio's personal fortune. He recently sold a quarter of his interest in Fastweb for just under £150 million. He admits that his latest initiative is "a non-bankable business". He described the business plan as "very subjective" and a "leap of faith".
An interesting aspect of Babelgum platform is the notion of personalised smart channels, which will automatically suggest specific programming based on recommendations and collective feedback from viewers.
The use of the MPEG H.264 AVC compression scheme by both Babelgum and Joost is facilitated by the terms under which it is licensed. In the case of internet streams which are free to the end user, there is no royalty due until the end of 2010. After that date, royalties will be no more than for free television.
The Babelgum platform employs a proprietary security scheme based on 128-bit AES encryption. The licensing system can support various digital rights management terms including geographical restrictions, time-limited licences and potentially pay-per-view programming.
A billing and tracking system will record which programming and advertising has been viewed and by whom, enabling advanced billing options in the future.
It is perhaps significant that Silvio Scaglia, who helped create a successful model for broadband video over the closed network of Fastweb, is now backing a global distribution model over the open network of the internet.
Whether there is room for two essentially similar broadband video networks like Babelgum and Joost remains to be seen, but one would not necessarily bet against the business experience behind Babelgum.