Sky is due to launch a new feature that will offer limited video-on-demand through its satellite television platform in the United Kingdom. James Murdoch, the chief executive of BSkyB gave a live demonstration of the new push video-on-demand service.
Sky Anytime TV delivers selected programming over satellite to the partitioned hard drives of more recent Sky+ digital video recorders which reserve some of their storage for use by Sky. Over a million customers, including all high-definition subscribers, will be able to access the feature when it launches in March.
Programmes, such as movies, are immediately available through the red button on the electronic programme guide planner, where they appear with a preview video. Each programme will be stored for a limited period, but if the user wishes to watch them beyond that, they can be moved to the personal planner simply by pressing the record button on their remote control.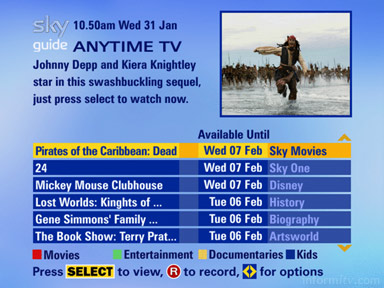 "It's as easy as pie, its completely seamless," said James Murdoch. "We're really excited that it's going to be a nice product and that's just the beginning." He hinted that Sky might add some pay-per-view programming, but said that Sky wanted it to be part of the overall functionality of the platform.
Top Up TV, which offers additional subscription services on the digital terrestrial television platform in the UK, has a Top Up TV Anytime service which operates on a similar principle.
The Sky executive was keen to demonstrate the benefits of a hybrid platform, combining broadcast and broadband with local storage. He said that satellite broadcasting offered "essentially unlimited bandwidth," while a broadband network "that gives us national reach but also very fast reliable two-way connectivity". He observed that the cost of local storage continues to come down, adding that "we will add more functionality and more power to those boxes".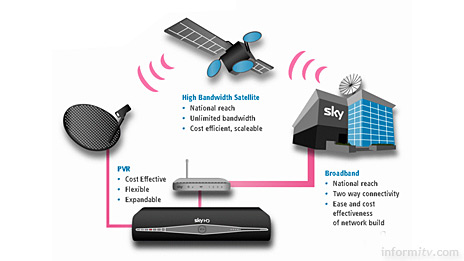 Regarding the roll out of its high speed broadband network, when complete around June 2007 it will reach 70% of the population, which is greater than the entire cable television infrastructure in the country.
The focus on the competition comes as cable television in the UK is about to be relaunched under the Virgin brand with a major marketing campaign.
"Is there a risk that they get their act together?" James Murdoch asked, but he was dismissive of the threat. "Our ability to attract new customers is head and shoulders above the competition. In aggregate they added four thousand customers in the last 14 quarters. We added that in two days. There is simply no comparison. Putting a new name on something does not alter the fundamental challenges."
Announcing six month interim results, Sky said that it had added 183,000 net customers in the last quarter to reach 8.4 million subscribers. There are now nearly two million households with a Sky+ digital video recorder. The company reported good initial progress with its broadband business, with 259,000 customers activated in the first quarter.
Six month revenues rose by 10% to £2,200 million, with an operating profit of £395 million, a slight fall on the same six months in the previous year.
"In the last six months we have achieved a number of important milestones in building our business for the future," said James Murdoch. "Sales of new Sky boxes were the highest for six years, Sky+ broke through the two million barrier and Sky HD almost doubled in size after a strong Christmas sales period."