The Sky Anytime broadband video download service has delivered over a million movies in its first year and now has over a quarter of a million registered users in the United Kingdom and Ireland. The oriental art house film House of Flying Daggers was apparently the most downloaded movie.
Launched a year ago as Sky by Broadband, the online video service offers over 400 films at any one time, with a mix of blockbusters and library titles. Subscribers to Sky Movies on satellite can download most films at no extra cost. There are also premium and world cinema films available to all Sky subscribers on a pay pre view basis at £3.95 each.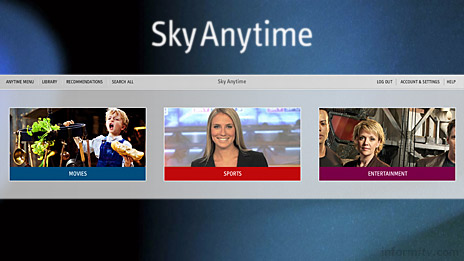 The Sky Anytime broadband service also offers access to selected programmes from Sky One and sports action from Sky Sports. Subscribers to Sky One can buy or rent episodes of series such as Lost, while subscribers to Sky Sports can watch highlights of Premiership and UEFA Champions League football matches.
Videos are delivered to personal computers over a peer-to-peer network in Microsoft Windows Media format, secured with digital rights management.
"We're delighted that customers have taken to Anytime with such enthusiasm," said Dawn Airey, the managing director of channels and services at BSkyB. "Sky Movies is the UK's most popular movie service and we're able to use broadband to give customers more flexibility in how they watch. The fact that in this first year we've already seen 1 million movie downloads is testament to customers' willingness to embrace new technologies and get more from Sky."
Sky is now a broadband service provider in its own right and last week launched a bundle of television, telephony and broadband services pre-empting the re-launch of competing cable services under the Virgin Media brand.