The Venice Project, an ambitious global digital video distribution platform from the people behind Skype, is being tested by a group of invited users, including informitv. The first published screenshots show that it aims to provide a full-screen televisual experience.
The peer-to-peer video project threatens to disrupt television distribution in the same way that free calls over the internet are disrupting the telephone industry.
The Venice Project aims to combine the best things about television with the power of the internet, to provide viewers, content owners and advertisers with more choice, control and creativity.
Unlike some other initiatives, it is not a file-sharing application or a video download service, but delivers streaming video-on-demand over the internet.
Currently subject to a non-disclosure agreement, the terms of the beta test do not permit discussion of details of the project that are not already in the public domain, but we can share some screenshots that have been released for publication.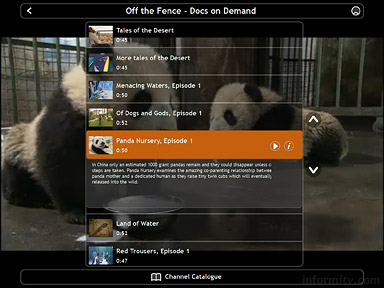 An on-screen electronic programme guide shows channels and programme information over full-screen video, with controls allowing playback to be paused and re-wound.
Currently users can only seek within content that has already been played, but that will be extended to allow forward seeking.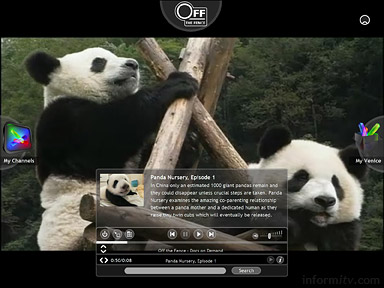 A channel brand is shown at the top of the screen, with a channel selector to the left, with access to other tools to the right.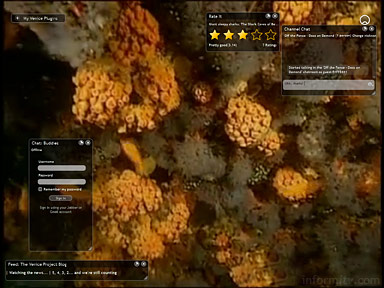 Various on-screen tools are also shown, including programme rating, channel chat and a scrolling text ticker.
The application also supports a desktop mode, allowing the video window to be dragged around over other applications.
The service is still in a closed beta test and will be rolled out through an invitation programme prior to a public launch. The team plans to add users in a controlled release, as they add servers and bandwidth to meet demand.
In a note on their web site, Fredrik de Wahl, the chief executive of The Venice Project said: "While we're still very much in the beta phase, we have a strong proof of concept now."
While we cannot go into details, we can confirm that it works as advertised, given that it is currently a pre-release application.
Of course, the real proof will be provided by the programming, rather than the technology. If programming providers can be persuaded to commit compelling content to the platform, it could have incredible potential.