A packed audience at an IPTV Explained conference in London heard how internet technology is changing television and video distribution. In conjunction with the conference, informitv has published a free IPTV Guide to internet protocol television and broadband video.
The IPTV Explained conference was organised by Broadcast magazine in association with informitv.
The conference provided an introduction to the internet technologies that are changing the distribution of television and video, presenting new threats and opportunities to broadcasters and programming providers.
To coincide with the conference, informitv has published an exclusive executive overview of IPTV and broadband video and is making it available to readers for a limited period as a free download.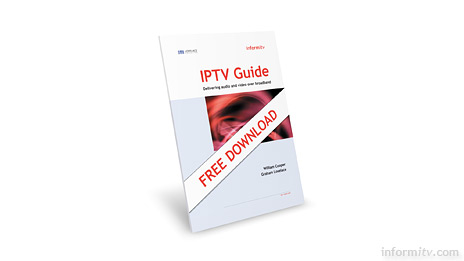 The 60-page IPTV Guide: Delivering audio and video over broadband, by William Cooper of informitv and Graham Lovelace of Lovelace Consulting, expands upon their introductory presentation to delegates.
Based on many years of research and consulting experience, this concise guide provides an essential introduction to the field.
The IPTV Guide explains in simple terms precisely what internet protocol television means and what it means for anyone involved in the technology, media and telecommunications industries.