Dutch interactive television company 2waytraffic has acquired the group which owns production company Celador and the rights to the hit game show Who Wants to be a Millionaire? The show is licensed in more than 100 territories and currently on air in 39 countries.
The £106 million pound acquisition gives 2waytraffic the rights to a portfolio of properties, including the lucrative Millionaire franchise.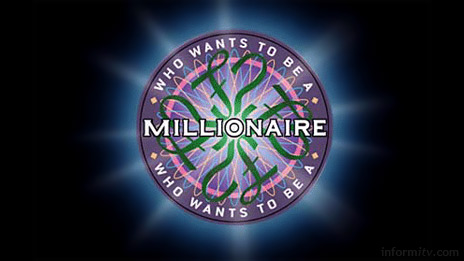 "This is a transformational deal that will see us acquire Who Wants to be a Millionaire?, one of the most popular and sustainable primetime game shows in history, as well as a number of other well-known formats," said Chris Pye, chairman of 2waytraffic.
Kees Abrahams, the chief executive of the Dutch company, added: "We are confident that Who Wants To Be a Millionaire? and the other successful formats we are acquiring will benefit from our interactive expertise at a time when technology is allowing producers to develop formats with increased interactivity in TV, mobile and digital".
2waytraffic was founded in 2004 by some of the original team behind Big Brother, the Endemol reality show, and is based in Hilversum in the Netherlands. The strapline of the company is "Converting viewers into customers".
The deal gives 2waytraffic access to over 30 broadcasters with whom it can extend its existing business and potential for "further substantial interactive and ancillary exploitation" of Who Wants to be a Millionaire? and other formats, including participation television.
Millionaire's main creator, Paul Smith, who stands to make around £25 million from the deal, said it was more than "purely financial," saying "Millionaire is very much our baby, so it was a matter of who would best look after it, share our philosophy and believe in it as passionately as we do". He will remain executive producer of the show in the United Kingdom and a consultant to 2waytraffic.
One of the beneficiaries will be British comedian Jasper Carrott, who will receive more than £10 million for his original investment in Celador International, which produced some of his television shows.
Millionaire has been is one of the best examples of the application of interactive television to the television quiz format, transforming the viewing experience.
After 20 series since it first aired in 1998, it remains a mainstay of the ITV schedule in the United Kingdom. On occasions the broadcaster failed to manage its interactive service, resulting in some amusing errors.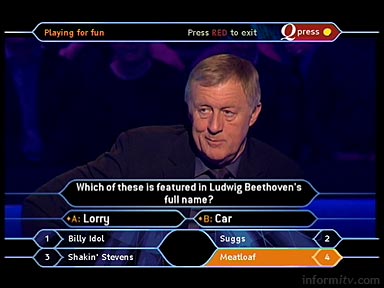 One week the interactive answers presented to the question 'Which of these is featured in Ludwig Beethoven's full name?' were: Billy Idol, Suggs, Shakin' Stevens, or Mealoaf.
More recently, the show has concentrated on exploiting telephony revenues, asking the audience to call in with answers to the 'walkaway' question, generating significant income.
However, the new owners may need to inject some new interactive mechanics if they are to sustain the appeal of the show.