The launch of a new mobile broadband service for a simple flat monthly fee will allow customers to access their home computer and watch their home television or video services on their mobile phone or make unlimited free calls using Skype. It should give other operators something to think about.
The X-Series from third-generation mobile network operator 3 will be priced like fixed-line broadband. Moving away from unit charges is a significant change in the business model for mobile media and internet access.
It overturns the traditional telephony tariffs that charge additionally per connection, minute, message, click, event or per megabyte. It also recognizes that consumers will ultimately prefer to pay a flat rate for data access and do not want to be restricted to the confines of operator portals.
The 3 Group has announced global partnerships with Sling Media, Orb and Google. These are in addition to previously announced agreements with Skype, Microsoft and Yahoo.
3 Group is a division of Hutchison Whampoa, which has 3G licences in 11 markets and services in the UK, Ireland, Italy, Israel, Austria, Sweden, Denmark, Australia and Hong Kong.
The company has made massive investments in mobile since selling its Orange business and has been competing aggressively to acquire and retain customers.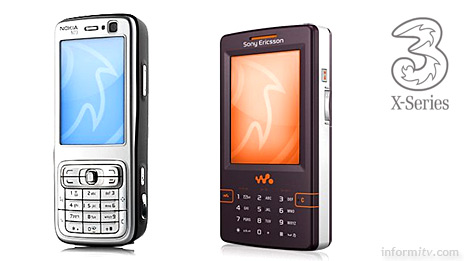 "Mobile broadband is the natural next step for mobile services, extending the full power of the internet to mobile handsets," said Canning Fok, Group Managing Director of Hutchison Whampoa.
"We're tearing down the walls around the proverbial walled garden and going naked into the big world outside," said their finance director Frank Sixt. "We think forcing people into a walled garden of content and services in a mobile broadband world is simply wrong."
Customers will be charged a flat fee on top of their basic subscription to access mobile broadband services, including free Skype calls and other text messaging services. There will initially be an additional access fee for customers who also take higher-bandwidth services like Sling and Orb. All services will be subject to fair usage limits and international roaming restrictions. Pricing details were not announced at launch.
Although not the first mobile operator to offer a flat fee for internet access, 3 is more progressive in allowing consumers to access their own video services, providing further legitimacy to the concept of place-shifting video introduced by Sling Media.
This is the first time that Sling Media has partnered with a major mobile operator. Subscribers with a Slingbox will be able to watch anything they are able to watch on their own television, including their satellite, terrestrial or cable service, or their home personal video recorder.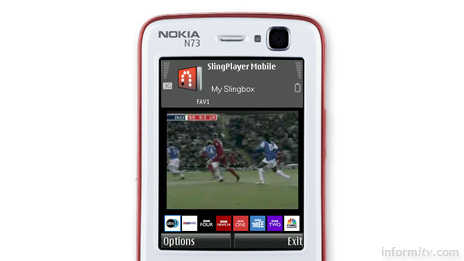 "Working together with 3 has enabled us to push the boundaries of TV viewing further than ever before," said Blake Krikorian, the co-founder and chief executive of Sling Media. "3 understands the power of mobile broadband to deliver compelling, value-add applications and services like a truly personalised mobile TV experience. The availability of SlingPlayer Mobile for 3 customers is a major breakthrough in mobile TV viewing."
Thanks to Orb Networks, they do not necessarily even need a Slingbox. They will be able to remotely access digital media available on their personal computers, including videos, music, and photos. Orb calls it MyCasting. Orb has also announced the ability to transcode clips automatically from YouTube and Google Video.
"3 Group just gets it," enthused Joe Costello, the chairman and co-founder of Orb Networks. "They are the first mobile media company to give their customers the freedom and choices to use the mobile web the way it was intended to be used."
He continued: "3 is not running away from the future, they are running towards it with open arms, ripping down the wall around the garden and offering up the best Web 2.0 services to their customers."
Subscribers will also be able to use free instant messaging services from Microsoft and Yahoo and search the internet using Google and Yahoo.
The first handsets to support the service will be the Nokia N73 and the Sony Ericsson W950i Walkman phone.
The X-Series service from 3 will be available in the UK from 1 December 2006 and other 3 markets around the world in early 2007.