BT has launched the line-up for its wholesale mobile television offering, BT Movio, which will include the three leading channels in the UK. Virgin Mobile will be the first mobile operator to offer the service.
Delivered using the DAB digital radio system, the BT Movio service combines live television and digital radio with a seven-day programme guide and 'red button' interactivity.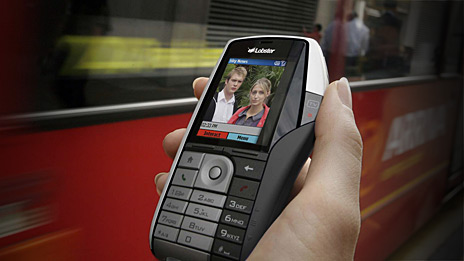 The three largest terrestrial broadcasters will simulcast channels. With the exception of some film, sport, and international programming, it will carry the majority of BBC 1, ITV1 and E4, with Channel 4 expected in the future.
The BBC service will be carried on a 12 month trial basis which, like its current high-definition trial, apparently does not require approval from its governors under a public value test.
The interactive functions, which will not initially be provided for BBC 1, will allow consumers to participate in television and radio programmes by directing the browser in their phone to associated web services.
"We're delighted to be leading UK broadcasting onto the exciting platform of mobile TV," said Jeff Henry, chief executive of the ITV Consumer division. "The broadcast and mobile industries are at the beginning of a steep learning curve, so this service will not only provide a boost to a nascent service, it will also inform future content decisions, allowing us a better understanding of what people want to watch on their phones."
Rod Henwood, New Business Director of Channel 4, said: "Channel 4's strategic and public service objectives are to make our programming and services available across all meaningful platforms and to be one of the first UK broadcasters to begin simulcasting our content on mobile is a significant step towards delivering this."
Digital radio will also be a key component, since the service is carried in the DAB digital radio spectrum. As part of its service, BT Movio will broadcast programme guide data for the UK's national commercial radio stations.
A consumer pilot highlighted the popularity of radio as part of the proposition, as well as television. Between 30 and 50 radio stations will be available in most major metropolitan areas in the UK.
"While developing our wholesale offering we have never lost sight of what the consumer wants," said Emma Lloyd, managing director of BT Movio.
Virgin Mobile will be the first mobile phone company to offer the service. The mobile operator was recently acquired by cable company NTL Telewest.
Alan Gow, managing director of Virgin Mobile said: "We are really excited to be able to offer our customers the same brands and high quality of programming that they expect on their television at home."
The service will initially only be available on just one model of phone, the Virgin Mobile Lobster 700TV, manufactured by HTC, which is the first DAB-IP enabled device in the world. A series of other models is being developed to support the service.