The BBC has announced sweeping structural changes to meet its on-demand Creative Future vision, placing Future Media and Technology at the heart of its strategy. Old media words like television and radio are dropped, with all BBC content organised in three divisions: Journalism, BBC Vision, and Audio and Music.
The latest re-organisation, due to be effective by April 2007, is intended to enable cross-platform commissioning and production and ensure creative coherence and editorial leadership across all media.
BBC director general Mark Thompson told staff: "We need a BBC ready for digital and for 360 degree multi-platform content creation, which brings different kinds of creativity together — in technology as well as content — to deliver what we need in this converging world."
The new organisation chart replaces the previous 'petal' structure created by his predecessor, and places Marketing, Communications and Audiences at its centre.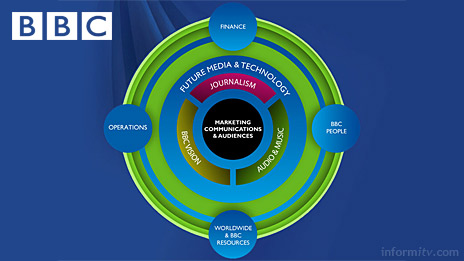 New Media is no longer new. An expanded Future Media and Technology division, led by Ashley Highfield, will concentrate on emerging technologies, with a budget of a quarter of a billion pounds. The renamed division now seems less likely to be relocated to Manchester.
Mark Thompson described the term 'new media' as an anachronism, saying that "much of what we call 'new media' is really present media and it belongs in the main content divisions alongside linear TV and radio."
Responsibility and funding for non-linear content will go direct to the content divisions.
The new Future Media and Technology division will focus on what comes next in terms of technology and services, and concentrate on search, navigation, and metadata, on-demand, mobile and the web, including the emerging i-player and web 2.0 initiatives, as well as the archive.
Technology strategy will become more centralised, with a single team of technologists and a single technology budget. Three new future media and technology controllers will be assigned to three main content areas: Journalism, BBC Vision, and Audio and Music.
The change in terminology from television and radio to vision and audio also reflects a new multimedia approach, rather than being based in the traditional broadcast world.
The Journalism group, led by deputy director general Mark Byford, will now also include sport as well as global, national and regional news, working across all platforms.
The new BBC Vision group, led by Jana Bennett, will bring together the former BBC Television, Factual and Learning, and Drama, Entertainment and Children's divisions.
The Audio and Music group, led by Jenny Abramsky, will deliver audio content for all platforms, as well as traditional radio, and will be responsible for music across all media, including television.
BBC Worldwide, the commercial arm of the corporation, will be led by its chief executive John Smith, who will relinquish responsibilities for public service finance, with Caroline Thomson, currently director of strategy, becoming chief operating officer of the BBC.
BBC Vision
"360 degree content creation, delivering for our linear television channels but also for all the new on-demand and web-based platforms needs to become practical reality rather than just rhetoric and this new grouping will enable us to do that," Mark Thompson told staff.
"We want a group of commissioners who really do think 360, commissioning the website, say, or the mobisode at the same time as the TV programme — or vice versa because we think more and more ideas will start in the digital space."
The BBC director general ended with a stark warning to staff to embrace the new vision, telling them to "do your own job and let others get on with theirs," adding "if this doesn't sound like your kind of place, then it's time for you to decide if the BBC is right for you." He said that people "who would rather fight old battles or just sit on their hands won't prosper anymore".