BSkyB has launched its new broadband internet access service, Sky Broadband, which will be free to Sky subscribers. The UK satellite broadcaster aims to build a broadband customer base, targeting revenues from online advertising, search, content and increasing penetration of additional products.
Sky will offer its customers 'free' basic broadband at up to 2Mbps, with premium services available at up to 8Mbps or 16Mbps at £5 and £10 per month respectively. The 16Mbps 'Max' product is unlimited, subject to a fair usage policy, but the basic service has a 2GB transfer cap.
It seems there is no such thing as a 'free' launch. There will be a connection fee of £40 for the basic service and Sky will offer professional home installation for £50, with a free wireless router supplied by Netgear. There is no connection or installation fee for the 16Mbps Max product.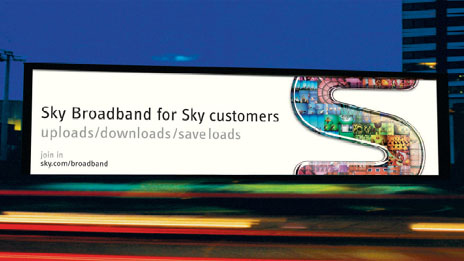 James Murdoch, the chief executive of the BSkyB, described it as a transformational new initiative for Sky that would deliver compelling value to customers. He said: "Sky is ideally equipped to enter the large and growing markets of broadband and telephony and by pushing the boundaries of the home entertainment market, we will help our customers realise the full potential from technological convergence."
"This isn't marketing sleight of hand," he said. "This is a new business of substantial scale."
BSkyB is expected in invest £400 million over the next three years, with a capital expenditure of £250 million in the first two years. The company says it expects Sky Broadband to be earnings enhancing by 2010, independent of any benefits to its subscription satellite television service.
Following its acquisition of broadband service provider Easynet, Sky is currently installing equipment in 30 telephone exchanges a week, focussing on urban areas. Initially this will provide partial unbundling, providing the broadband connection over a BT line, moving to full unbundling of the BT voice line from early 2007.
Sky believes that the vast majority of customers connected to unbundled exchanges in urban areas will be able to receive the 16Mbps service. Their network currently covers 28% of the UK, which will rise to 70% over the next 18 months.
"A lot of incumbent players have been charging a lot of money for not a lot," said James Murdoch. "We can see huge growth as a new challenger with no legacy tariff structures or technologies to protect."
BSkyB has been linked to a possible acquisition of the AOL broadband business in the UK, but the BSkyB chief executive suggested this would be "purely on an opportunistic basis," indicating that they would not be prepared to pay a premium price, while conceding that there was a large overlap between Sky and AOL subscribers.
Sky will provide an integrated broadband video-on-demand service before the end of 2007. It currently offers some programming for download to personal computers.
The recently launched Sky HD high-definition set-top box comes equipped with an Ethernet network connection. The next generation of Sky+ boxes will also have an Ethernet connection and will support MPEG-4.
James Murdoch told analysts that the company had no plans for a full IPTV service, replicating a full subscription television service through broadband. He argued that a hybrid platform is more efficient and suggested that communal dishes provided a more efficient way of reaching apartment blocks. He said that the IPTV capability that they will provide will be video-on-demand.