French interactive television service and technology provider httv has created what is claimed to be the first end-to-end system for producing interactive video mosaic multiscreen applications.
Previously, broadcasters such as the BBC, Sky, DIRECTV or Echostar have had to integrate multiple elements of software and hardware to create such multiscreen applications. These systems have typically been relatively inflexible and complex to manage.
The httv Prime//mosaic system incorporates all the necessary hardware and comprises a mosaic builder and an interactive application, which is available for OpenTV, MHP/OCAP and IPTV middleware.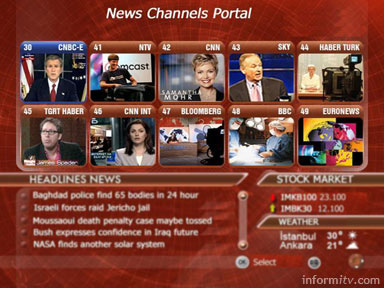 The mosaic builder can construct a video feed from up to twenty audio and video sources from unencrypted single or multiple program transport streams from ASI or IP digital inputs. The output is a multiplexed stream combining video, multiple audio tracks, signalling information and the interactive application.
The authoring system, which is based on the httv PrimeTV system, allows service providers to create, design and manage the interactive mosaic using drag and drop tools.
The company claims the integrated solution provides increased flexibility and dramatically reduces the cost of creating mosaic channels.
"Video mosaic is not a new concept," said Jean-Christophe Jubin of httv, "but with the Prime//Mosaic end-to-end solution it becomes fully interactive, cost effective and easy to deploy".
"Video Mosaic is a new way to consume TV," he continued. "For instance, subscribers looking for sport will now tune on the sports video mosaic channel to check what's currently available on all the sports channels. They will also be able to access sports interactive information, games, contests, betting and interactive adverts."
Other examples include news applications, kid channels, multi-stream event coverage, and mosaics of channels within the same subscription packages.
Multichannel mosaic services remain one of the most popular applications on interactive television, combining audio, video and interactivity in a way that is intuitively attractive to viewers.
With next-generation digital video services it may now be possible to create such picture-in-picture applications in the receiver, but compositing multiple video streams into a single channel remains a simple and cost-effective solution that works with existing transmission systems.