Amino Technologies has launched a high-definition version of its set-top box for broadband television and video services and is licensing its designs through a spin-off company, IntAct.
The AmiNET130 supports high-definition MPEG-2 and MPEG-4/AVC H.264 video streams and is based on the same diminutive design as previous Amino products. Supporting high-definition displays at 720p and 1080i resolution, it includes an HDMI interface with HDCP copy protection.
The company claims that it will be among the first such device to deploy in volume, with the first customer deployment expected to be announced in the third quarter of 2006.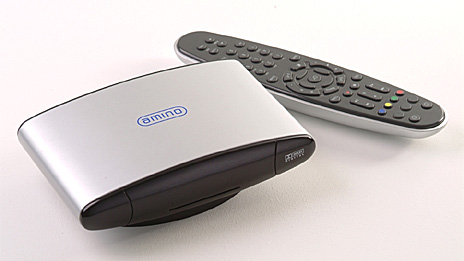 "A number of companies have announced high-definition H.264 products in the past but we have yet to see any evidence of deployment," said Roy Kirsopp of Amino Communications. "We are confident that Amino will be the first company with actual commercial roll-out."
The company, based in Cambridge, England, has also established an independent business unit, IntAct Software Limited, to license its set-top box designs and client software to other manufacturers, operators and systems integrators.
Amino says its software has been successfully deployed in more than half a million set-top boxes in 80 commercial roll-outs.
The company says the number of volume deployments of IPTV networks should increase significantly in 2007, enabling local manufacture with associated reductions in import costs and allowing multi-sourcing of set-top boxes operating a common software solution.